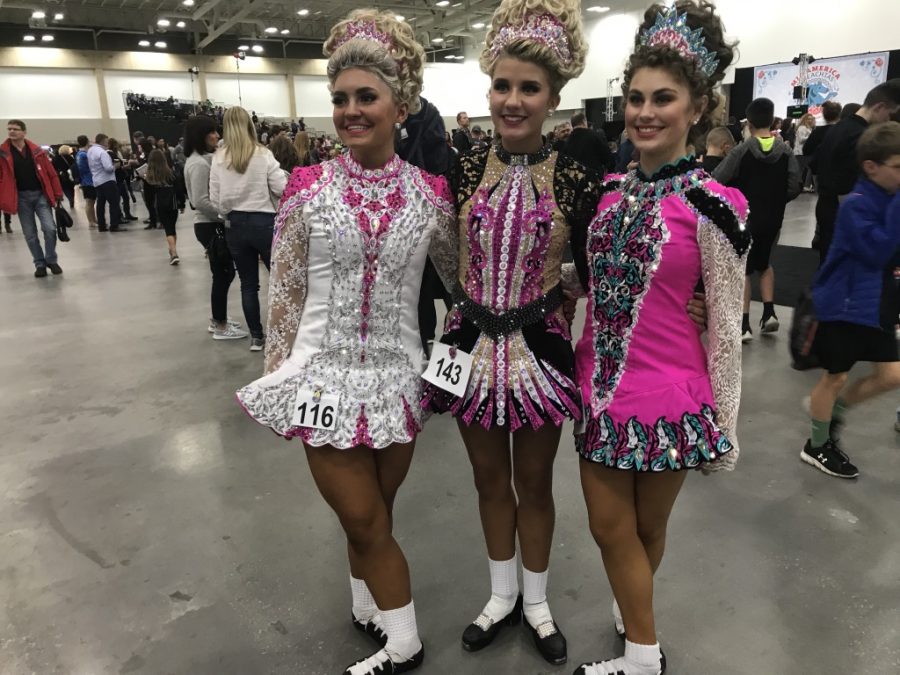 Photo by Hannah Sween
A little girl, about the age of nine, is silhouetted by the sun setting behind the mountains of Wyoming awash with the fading goldenrods and deepening shades of rose. She hops about on a large, flat, centuries old rock practicing a dance brand-new to her, the Light Jig.
Ayuna Lamb-Hickson had just completed her first Irish dance camp and was practicing hard on a backpacking trip with her parents in anticipation of starting her first year of classes at O'Shea Irish Dance.
The brightly lit Studio Three in the basement of the Celtic Junction is filled with a bouncing bunch of excited new dancers. "We were all in a line and I was so focused. I just loved it. And I was I just focused on the step and I just do them over and over again," Lamb-Hickson said regarding her first dance class.
The focus and drive exhibited by her as a child is a common thread that has followed her dancing around the globe.
Humble beginnings
At the age of seven, a young Lamb-Hickson had no idea she was about to witness the show that would spark her passion for dance and change her life forever.
A friend of her parents mentioned to them that they had to go see Julie Fowlis, a friend of theirs affectionately called "Cousin Julie", who was a Gaelic singer. Little did they know, an irish dancer would be performing with Julie.
"I thought it was like the coolest thing. So then we bought one of her [Julie Fowlis'] CDs and for two years my mom taught, well didn't really teach, we just ran around the living room with our arms at our side and we made up Irish dancing," Lamb-Hickson said.
With her two years of Irish dancing "experience" behind her, Lamb-Hickson would attend her first dance camp at O'Shea Irish Dance, sparking her passion for the sport and art form.
Movin' on up in the world
After her first year of dance, it was clear that Lamb-Hickson was something special. Her dance teacher, Cormac O'Se, moved her quickly through the class levels in just a couple of years that would take the average dancer at least five years to complete.
At a very young age, Lamb-Hickson was suddenly in a class with kids much older than her, some well into high school. "I just remember I was absolutely terrified," Lamb-Hickson said.
However, her drive to achieve helped her persevere through her fear of the "big kids" as well as other roadblocks.
At the 2016 Midwestern Regional Oireachtas, the regional championships, Lamb-Hickson didn't qualify for the world championships, a goal for many Irish dancers.
"First I got really sad after that but then I turned it around. I turned my anger into determination," Lamb-Hickson said. She spent anytime she wasn't dancing doing sprints or strength exercises.
But then another set back came, she hurt her foot right before a major competition. However, where some would throw in the towel, she kept going.
Shoot for the world and you'll land among the stars
Leading up to the 2018 Oireachtas, Lamb-Hickson decided to switch up her training routine. Rather than just dancing only in class and just doing strength and cardio exercises outside of class she began dancing more and more outside of class to replace some of her cardio workouts. She and her parents built a practice floor in the basement of their home.
"I hated it at first. I would just like get so upset and I would just like sit in my basement and I'd be like so mad at myself and I would just tell myself 'I'm awful,  i'm awful' and this tape would just play over and over again," Lamb-Hickson said.
But these things take time. As she pushed through her frustration she began to see results.
"I became more confident and it didn't really matter how the placing went at competitions. The placing became less important, it was more I worked hard for myself and I knew how to do the moves better to my ability," Lamb-Hickson said.
With her new training method and a new mindset Ayuna went into the 2018 Oireachtas with more confidence than she ever had before. After dancing two solid rounds, and being recalled to dance her third round, she knew she'd receive an award but wasn't sure where she'd end up despite her confidence.
"I was like standing backstage before awards. And I was like, holding my stomach and Roisin [a friend of hers in the competition] was like 'Ayuna, you know, are you okay, are you okay?' And I thought I was going to throw up, I was so nauseous. I knew because I was 116  and I was like, I know, I'm gonna find out, like, right away," Lamb-Hickson said.
At regional competitions all competitors are given a number starting at 101 and up through the 200s sometimes depending on the size of the competition. At the awards ceremony, the world qualifiers are announced in each age group before they give out the rest of the awards. Because Lamb-Hickson was 116, this meant she would know right away whether or not she had made her goal of qualifying for worlds.
"They called 114 and then 116 and I was 116. And it was just like this, I don't know, it's like walking on clouds walking onto the stage. It was, oh, it was so incredible. And just hearing the eruption in the audience. It was this moment of knowing how hard I had worked and then just standing up there and I standing back behind the podium as the world qualifiers. Oh, I was dying, it was such a good moment," Lamb-Hickson said.
Finally after years of hard work and perseverance she had made it. Lamb-Hickson, a sophomore, will compete at the World Irish Dancing Championships in April 2019.
"Irish dancing really means everything to me, my life revolves around it and I love it," Lamb Hickson said with a starry eyed smile.
Her kind heart and perseverance are beyond inspiring and as she begins her training for the World Championships, based on her work ethic that rivals that of olympic athletes and her unending love for the sport, it is almost certain that she will blow the judges away.