Students take ACTion, ACT prep course offerings
An all-out academic battle, where only the strongest survive, and even fewer thrive. The ACT is a standardized test that the majority of the midwestern and southern students take during their junior or senior year. The ACT is comprised of 5 timed sections, math, reading, English, science and an optional writing test. The test was introduced in 1959 as a competitor to the SAT and is scored on a 1-36 point scale. These scores can be submitted with a college application. This creates competition between students to get the best possible score, to get the best odds at acceptance, so the prep course system was introduced.
"
It's not learning, it's more just learning how to take the test."
— Julia Snyder
Two students taking these courses are juniors Julia Snyder and Bella Anderson. They each took the ACT before beginning the course, and have plans to take it again once the course has been completed, hoping to improve their scores.
"A lot of it is self-motivated it, you know, to try to push yourself forward," Anderson said. The courses help to structure time in order to get the most out of it.
"I devote a lot of hours to it," Snyder said. Snyder participates in Huntington's ACT prep class, while Anderson is in Stillwater Community Ed class. The Huntington course meets twice per week and during weekends. The Community Ed course meets on Tuesdays.
"I'll go until 4 [for after-school activities], run home, and then run back out to go into this. It's not very convenient," Anderson added.
Any ACT prep course requires a substantial time commitment and can really eat into free time. Though the same can be said of individual study, individual study can be conducted at home and during times that are more convenient.
Many organizations offer ACT prep programs. Mathnasium, Khan Academy, Sylvan Learning Center, Huntington, and Community Ed. The prices range from $140-$1,000, depending on location and course. Each course offers strategies to save test-taking time and insight into possible questions. The courses also provide practice materials plus other tips for taking the test.
"They're boring [classes], that I can say. But you know, they're not supposed to be exciting and fun," counselor Dan Ralston said. Students may not be going into these prep courses expecting a thrill ride, however, this can hurt the course's success by being unable to capture teen's attention.
"The course definitely is very generalized, because a lot of different students take it. So there are some things that maybe some students already know and they don't really need to spend more time going over," Snyder said. Subjects are covered broadly so that everyone can benefit.
"It's not learning, it's more just learning how to take the test," Snyder explained.
During the duration of the class, much time is devoted to practice tests. These are very similar to actually questions one might see on the ACT. This is a good judge of how you will do on the ACT at that point, and what you can improve on.
"In school, I would have procrastinated away and not done it. So I would need to pay money and program my time and go and do one of these courses in order for me to actually study and do it for the test. If you are a really disciplined person, you can use other study materials and do that on your own," Ralston explained.
These courses are excellent for procrastinators and those who need more structure. If a student feels as though they can self-motivate and apply different resources, then this class would be unnecessary. Students can buy practice materials online or in bookstores or find them for free in libraries or online.
ACT prep courses are a viable option for anyone, but the students who would benefit most from them are the ones who need more motivation and structure for their study time. They can be very pricey, but they allow students to get into the materials in a different way than to study independently. They also can speak with trained instructors and their own peers for further help. These courses can help students improve their scores. The course's benefits to their participants make the time and investment worthwhile.
About the Contributor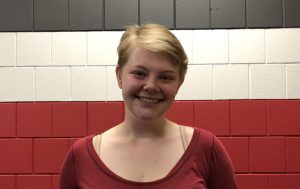 Elise Truman, Online Editor
Hi, I'm Elise Truman and this year I am a junior and an online editor for the Pony Express.  I love to read, especially fiction and true crime. However,...