Club discusses Korean (pop) culture
Korean culture has exploded globally over the last few years, from skincare, to the fashion, the food, and to the music especially. The annual Korean Music Festival now attracts approximately 30 percent non-Koreans.
K-pop club's foundation is based on Korean pop music and the culture behind it. K-pop club meets Wednesdays after school from 2:15 to 3:30 in room E124. The club has been around since October 2015 and has since gathered members all with a passion for the culture.
K-pop has increased in popularity since artists such as Psy, Girls Generation, Super Junior, and BTS have become more well known in the United States. It's defined as a musical genre consisting of electronic, hip hop, pop, rock, and R&B music originating in South Korea. In addition to music, K-pop has grown into a popular subculture among teenagers and young adults throughout Asia, resulting in widespread interest.
"I've been interested in K-pop for about 10 or 11 years now," VerDuin added. "I was in the print room once playing K-pop, and a student assistant asked me, 'Is this K-pop?' and I said, 'Yeah, it is!' and she said she knew a girl who liked K-pop and I thought if we had a club, I would love to be the staff adviser for that," she said. "Sometimes I look around and I see what kids are wearing and I think, that's what was popular in South Korea a few years ago. So it's kind of cool to see that spread."
The backbone of well-known K-pop artists is their fans. Many artists have names for their fans-such as BTS's "ARMY." Fans are passionate about the style of music and the culture in general.
"I like the versatile style of music and choreography that captures fans of all ages, genders and races around the world. Also, because of how the lyrics reach out to young people," junior Linda Herr said.
A typical club meeting involves watching videos related to K-pop, like music videos or Korean dramas, or talking about celebrities, fashion, concerts, Korean news, and scandals. They play games and eat Korean or Asian snacks.
"When you're passionate about something it's nice to see people who are also passionate about it," VerDuin added. "It makes me happy to see them all in the same place. A question I would have is, how does an older white lady get into K-pop? And I always tell the kids it started with them and my family."
About the Contributor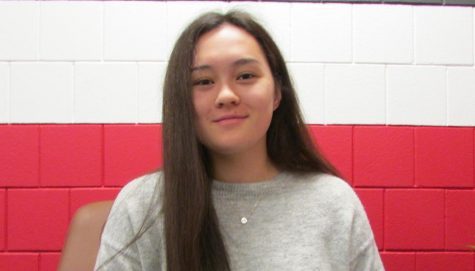 Kyra O'Loughlin, Layout Editor
My name is Kyra and I'm a layout editor for the editorial section. I'm a junior this year and I enjoy orchestra, musical theatre and true crime documentaries....