Cooks of Crocus Hill welcomes community
Hang on for a minute...we're trying to find some more stories you might like.
With the holidays approaching, making meals seems to become a top priority. With families and loved ones to please and impress, cooks of the family need someone to show them how to bring out the best in their cooking.
When customers enter Cooks of Crocus Hill, a sense of welcoming comes over them. Cooks of Crocus Hill is not an average kitchen supply store.
The company is rooted in community values. As customers leave the store, whether it is with a newly purchased cookware that will draw eyes or with newly learned skills that will draw taste buds, they will feel accomplished.
"
We like to teach everyone to cook. Kids, parents, adults, people on dates and people in corporations. Everyone comes here to collect and we bring them together through food. We try to orient people together through food."
— Marie Dwyer
Cooks of Crocus Hill is a kitchen supply store and a cooking school that has locations in Stillwater, St. Paul and Minneapolis. The store offers events such as cooking classes, private events, crops shares, and team and business building events. The store was opened in 1973 by sisters Martha Kaemmer and Mary Rice. Currently, the company is owned by Marie Dwyer and Karl Benson.
Cooks of Crocus Hill was the first at home cooking school of its kind. When it first opened 45 years ago, if cooks wanted to learn to make anything beyond the basic dish of meat and potatoes, there was no place to do it. The stores and classes continue to cater to a wide range of the community, teaching new skills and spreading new recipes.
"We like to teach everyone to cook. Kids, parents, adults, people on dates and people in corporations. Everyone comes here to collect and we bring them together through food. We try to orient people together through food," Cooks of Crocus Hill owner Marie Dwyer explained.
Cooks of Crocus Hill sells high-end supplies and teaches high-quality classes. They sell items from bakeware and barware to things such as cutting boards and specialty knives.
Their classes range from baking and healthy cooking to cultural and ethnic classes. They also range in skill level, offering kids and foundation classes.
All classes are taught by culinary trained chefs. The store also works closely with culinary schools in the area, another way they bring the community together.
"We are very connected to St. Paul College Culinary School and we bring a lot of their talent to us. A lot of times people just come to us and ask if they can teach, and we say sure! We do auditions for new chefs and it is fun because we get to see their style and eat their food," Dwyer said.
"They have a really nice selection of products. They sell a lot of the nice brands and the higher end stuff," returning customer Michelle Whitehead added.
Cooks of Crocus Hill encourages kids and teens to get active in cooking. Kids classes start at age six and go up to 17. The classes run like a camp and are focused on younger taste buds. Their goals are to give the kids and teens an experience that shows them cooking is not intimidating.
"The classes are totally phenomenal, whether youth or adult. I truly believe that everybody should learn. It is great community building, it is great for friendships," Dwyer said.
People who take the classes can second Dwyer's comment. When people take one class they often return for more.
"I have done about six cooking classes over the years. The most recent one being a grilling class. They had a grill outside which was fun. There was a whole menu and a local chef who was really exuberant and fun. At the end you get to eat wonderful food and go home with great recipes," Whitehead said.
Although all three locations provide similar products and services, the Stillwater store is unique. It is the newest store to open, yet in the smallest and oldest building.
With the new bridge opened, it has brought more foot traffic to the store. It sees a lot of the tourists that the town of Stillwater brings. The Stillwater location is closely tied to the community. It is involved in Lakeview Hospital with healthy eating programs. They are also connected to the food shelf at Valley Outreach with fundraising.
"We love that location. What really works well is it is on a corner, so it is really great," Dwyer said.
"They have a beautiful location in Stillwater with a nice cooking class area and a big island. When I went to purchase a product, I got really good help when selecting which one would work best for me. They are very helpful in Stillwater," Whitehead added.
With the age of instant information and social media, Cooks of Crocus Hill has had to adapt to this new trend. Instead of having to purchase a new cookbook to make a new dish, people can easily access any recipe online without having to leave their home or spend money.
They have adapted well, increasing their online presence with social media and online shopping. Their Instagram is very popular with almost 3000 followers. It has taken away a certain type of business, but it has also opened a new platform for the business.
"We have to be very innovative. It has created a new kind of business for us and it has made us better marketers," Dwyer said.
Cooks of Crocus Hill has taken a different path than an ordinary kitchen supply store. It focuses on community values and shows that cooking can be for everyone. They open their doors and welcome anyone who is willing to learn, no matter what the skill level. They push that food is more than just eating, it shows other cultures and is a tool that brings us all together.

About the Writer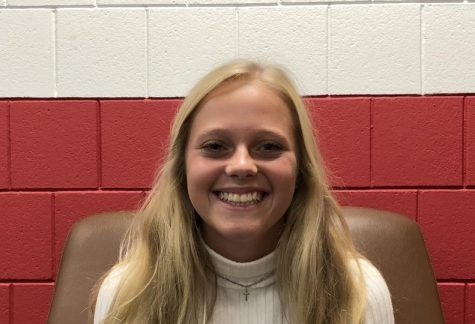 Catherine Monty, Distribution Reporter
Hey! I'm Catherine Monty and I am a Junior. My position for the Pony Express is a distribution reporter. I enjoy playing sports, specifically golf and...