Volleyball player, Maddie Whittington points toward success in her career
Hang on for a minute...we're trying to find some more stories you might like.
Junior Maddie Whittington, committed D1 to University of Illinois her freshman year and continues to thrive as a player.
Throughout her junior year, she became determined to be the best player she can while accomplishing her goal of improving.
Playing sports is something that can bring joy to people no matter what. It is an important part of people's lives and athletes just cannot get enough. For Whittington, she acquires her joy from volleyball.
"I love playing because of the joy that it brings," Maddie said. "Every point you get, you celebrate and it's so much fun to be on the court as it makes me feel stress free and brings a lot of joy in my life in general."
Maddie has a continuous love for the sport, she has been playing volleyball for most of her life and her love for the sport will never change.
"I have been playing since fourth grade and have been playing ever since and never stopped," Maddie said.
"
Every point you get, you celebrate and it's so much fun to be on the court as it makes me feel stress free and brings a lot of joy in my life in general."
— Maddie Whittington
Maddie has a mindset of improvement. She is always wanting to improve her skills at volleyball and plans on playing the sport for as long as she can.
"I want to be the best player I can be," Maddie said. "I want to improve every season as I work towards college volleyball and after too."
Junior year is not easy and causes a lot of students stress from touring colleges, deciding where to go to college and preparing for the future as well as taking ACT and SAT tests. Since Maddie is already committed, she somewhat feels less stress for preparing for college.
"Honestly, I am a little relieved," Maddie said. "I just feel blessed to have the opportunity to play for such an amazing college."
Parents and guardians play a crucial role in supporting their child in athletics. The fees, equipment, love and support all tie in to what parents do for their athlete. Maddie thanks her parents for always being there for support, advice and helping her accomplish her dreams and goals.
"I would not be playing without my mom," Maddie said. "My mom is who got me into playing volleyball. I am also thankful for my teammates and coach for pushing me to improve and for making me enjoy the game."
Maddie is not the only one who looks up to other people on her team. Senior Morgan Grim looks up to Maddie for guidance and motivation.
"Having Maddie as a teammate motivates me to be a better player," Grim said. "She is someone I can have fun with and get pumped up with, but also someone I can go to for advice and feedback."
Athletes who have been playing sports for most of their life would describe themselves passionate for the sport, especially if another teammate sees the passion first.
"I would describe Maddie as passionate," Grim said. "She is passionate about volleyball and the team aspect as well as wanting the best for for her teammates and will do anything to keep playing volleyball."
For the Ponies, this volleyball season was one for the books. Placing fourth in state, Grim believes Maddie contributed to their success as a team.
"Maddie has helped the team positively by playing hard this season in order to help us with winning, " Grim said.
Maddie has a love and passion for volleyball. She is determined towards accomplishing her dreams and goals and has a great support system to help her 'point' towards a successful career.

About the Writer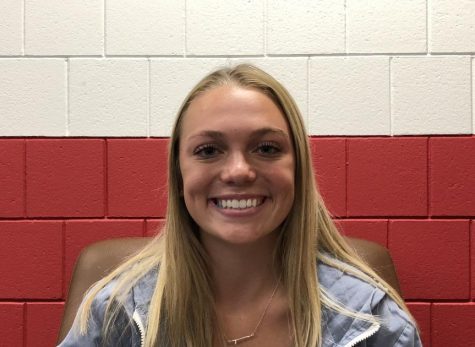 Paige Sanders, Photographer
My name is Paige Sanders and I am a junior this year. My position is the photographer for the cover. I am involved in cross country, hockey and track....