Roger Stippel retires after 34 years
Hang on for a minute...we're trying to find some more stories you might like.
AP Government and Politics teacher Roger Stippel is finishing up his last semester of teaching. The 2018-2019 school year marks Stippel's 34th and last year of teaching. At the start of the second semester, the staff and students will miss a very adored member of the school's community.
Before the start to Stippel's long career in education, he received his BA in social studies from Hamline University and an MA in curriculum and instruction from the University of St. Thomas. These degrees helped lay the foundation for Stippel's impressive teaching career, which began in 1984 in Stewartville, Minn. After spending 14 years there, Stippel joined the Stillwater Area High School community in 1998. That is where he spent his last 20 years.
Besides teaching AP Government and Politics, Stippel has taught Psychology, twelfth-grade economics, and eleventh grade United States History. Teaching is not his only way of getting involved in the community. Stippel is also deeply connected to athletics in the Stillwater community. He has coached boys basketball, golf, baseball, and football as well as girls basketball, softball and volleyball.
When it came to earning his boy scout badges, Stippel said it was easier to memorize the states, capitals, and presidents rather than doing the shop activities. "So I just started to like social studies and history," Stippel added.
Stippel also helped his dad coach his younger brother's sports teams.
"I would pretty much do all the coaching when I was 10, 11, 12 and 13 and I really loved that," Stippel said. "I knew I wanted to become a teacher and a coach and there was never a doubt."
"
I knew what I wanted to do from the time I was 10 or 11 years old."
— Roger Stippel
Although most people take it easy after retirement, Stippel has different plans. Besides coaching and teaching, Stippel is also passionate about politics. To continue this passion, he has decided to stay involved in public service by running for public office. Stippel lives in Northwest Wisconsin and will look into running for a public office position there.
"I would not be going to Congress with the idea of being a career politician. I'd be calling them to do the right thing and get things done. We really have a problem right now in this country communicating. The identity politics we are seeing is just evil and so is what has happened to this country. It is time we got back on track," Stippel said.
Besides running for public office, Stippel plans to enjoy retirement in other ways. He will spend more time with his family, including his two daughters, his wife, and his parents. He and his wife have nine acres of land on a lake that will keep them busy. The Stippels are also excited to start a scholarship at Stillwater for academic excellence.
"We have plenty of interests and plenty of hobbies to keep us busy.  We've got a lot of things brewing. But we also just need to relax after a long career of teaching and commitment," Stippel said.
Stippel will be deeply missed by students and staff throughout the school's community. His hard work and dedication have left lasting impacts on those who he has worked with. Throughout his 20 years here, Stippel has connected with many people, creating friendships that will last even after his retirement.
"I'll miss his energetic personality the most. I remember he used to use the word grit a lot. He would say grit through it. It was his way of saying keep going, it is going to be hard but you have to keep getting through it," senior Claire Gorman said.
"I am going to miss him, I tell you. We will try and visit every day. He is just a solid person and passionate teacher and it is hard to find people as solid as him," history teacher and friend Christopher Engler added.
The feelings are mutual. Not only will Stippel be missed, but he as well will miss the community he has spent his last 20 years in.
"Teaching for both Mrs. Stippel and I was a lifestyle, not a career. I will miss just being around young people and the enthusiasm that this community brings. I do not know if I could ever give up working with kids. For all the negative things said about young people today, and that is just rubbish, young people are great. They keep you young, they keep you vibrant," Stippel said.
About the Contributors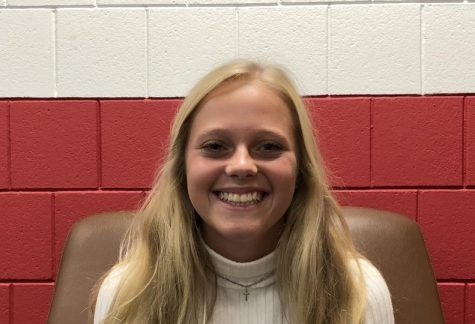 Catherine Monty, Distribution Reporter
Hey! I'm Catherine Monty and I am a Junior. My position for the Pony Express is a distribution reporter. I enjoy playing sports, specifically golf and...