Woodbury's new theater Alamo Drafthouse Cinema opens
Hang on for a minute...we're trying to find some more stories you might like.
As the lights dim and the smell of fresh food passes as the waiter walks by, the movie begins. At the entrance the bright lights of the  Alamo light up.  Inside the theater before the movie begins, the specially made previews for the movie starts. The Alamo is not the your typical theater.
The Alamo Drafthouse Cinema is the new movie theater in the outdoor shopping area of Woodbury Lakes in Woodbury. This theater opened on July 22, making this Woodbury theater the first Alamo Drafthouse Cinema to open in the midwest region. The values, general layout and structure of the theater differ from conventional theaters like Marcus or Carmike. The theater offers classic movie showings and a restaurant in the theater.
The food is set up restaurant style, this means the customer writes their order on a sheet of paper and the waitstaff comes by silently to take the order. The waitstaff try their best to not disrupt the movie by crouching down and being quiet.
Junior Alayna Christian explained, "The people who get your orders come up to you for your drinks and everything there is no concession stands," She added, "it's nicer but it is more expensive."
Even though the service is better, the prices are more expensive. The prices are higher than regular theaters, with candies being $7 at the Alamo and Marcus theaters candies ranging from $1-$4. In addition, there are not many options for movie theater snacks besides the general snacks including popcorn and some assorted candies.
Sophomore Megan McAllister said, "I think I would rather go to Marcus theater because those are cheaper and the seats are better."
"
It's nicer but it is more expensive."
— Alayna Christian
A quality this theater has that most theaters do not enforce is the no cell phone policy and the no talking policy. This means if cell phones are used during the movie or if people in the theater are talking too loudly, they could potentially be asked to leave. First, a staff member gives a warning and the second offense the staff member will escort the disruptor out. This prevents distractions from the movie and ensures a better experience for other people.
McAllister said the no phone policy is, "convenient to other people but inconvenient to you."
The Alamo Drafthouse Cinema offers many features that separate this theater from others. The unique set up and ordering process set the theater apart. The variety of films offered and food selection creates a new take on the average movie theater.
About the Contributors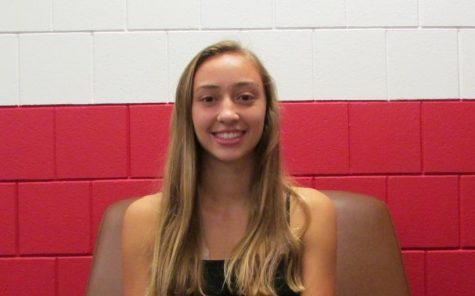 Elle Sprenger, Social Media Editor
Hi my name is Elle Sprenger. I am a junior, and a Social Media Editor for the Pony Express. I play volleyball for the high school. I love dogs, animals,...