Military recruiters seek out students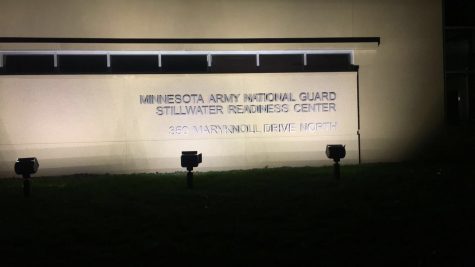 Army recruitment is making its way through public schools all over Minnesota. Local army recruitment teams are taking many approaches to get students interested and involved.
Sergeant Seth Allia is a recruiter working at the Roseville office. Allia along with others, personally come to schools to help reach out to the students and get them thinking about their futures.
Recruitment offices work to achieve the goal of educating students on the opportunities that being a part of the army team provides.
"That's the big issue, people don't know anything about the military. So we try and get out and tell them about all the benefits we provide and all the jobs we have," Allia said.
Local recruitment centers come to schools often throughout the year to provide fun ways to introduce students to the program. Similarly to at Stillwater, table set ups as students see in the cafeteria, are a common way to draw in potential recruits.
"We try to push this information, because a lot of jobs aren't combat related, we aren't just kicking down doors all the time. We do humanitarian work as well, with hurricanes and forest fires,"Allia said on assumptions of the Army's role.
Students should know all the opportunities that are available to them if they look into recruitment. The Army focuses on doing a good job at providing assistance in student's futures.
"They pay for your education, which is a huge benefit. With the National Guard, its a commitment of one weekend a month. Plus you get paid to be in it," Amy Carr, College and Career Center secretary said.
The army works to help each student they recruit have success in their future. They provide job training for civilian jobs, as well as push college on those recruited. It is encouraged for students to continue their education and take advantage of the financial support provided.
"
They pay for your education, which is a huge benefit. With the National Guard, its a commitment of one weekend a month. Plus you get paid to be in it."
— Amy Carr
"While I am in the army I'm going to take online classes that are free, but after I am going into the National Guard or Reserves to help me pay for college even more," senior Luke Higgins said on his plan for his future within the army.
Higgins and students like him, have found success with their plan of recruitment into the army. The goal of recruiters is to help students, parents and influencers recognize this.
Allia described the conflicts that students may face during the process of recruitment, "Parents or influencers. There's a common worry about having a son or daughter being put in combat, but that's why we want to push this information because that's a small part of it."
The process of recruitment takes time, effort and hardwork, however the amount of struggles and setbacks for a student are minimal. Dedication to enlisting is the backbone any student needs to taking that step into their future.
"With signing up, one of the problems can be medical issues that can hold them back. Also criminal and moral stuff or not graduating high school," Allia said.
If military is a potential option for any high school student, the recruitment team is on their side. Their staff works hard to reach out to students and help them take that next step into their future.