Building entry times changed to increase security
More stories from Pony Express Staff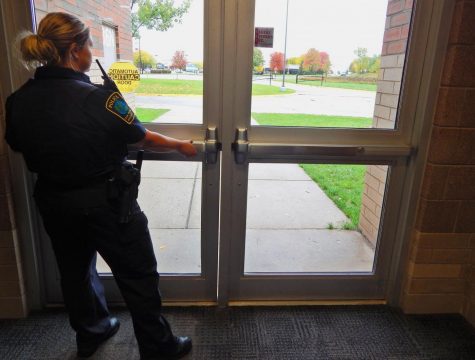 As students walk towards the school doors ready to enter the building for the day, they are stopped when the door does not open and a staff member comes out to tell them they have to wait. The school policy, newly enforced this year, does not permit students to enter the building before 7:10 a.m. without a meeting with a teacher. This rule is angering some students, but numerous students understand why it is necessary for the safety and security of the students.
This period of time before school, which is typically just for students to meet up or finish homework, is a great time for a non-staff or student to enter the building, possibly endangering staff and students.
Starting with the Columbine High School massacre in Colorado in 1999, school security has been more of an increasing issue. The increased awareness of the necessity of school security has led to many changes about before and after school policies.
Throughout the past two decades, school shootings have become more of a pressing matter that school administrations have become aware of. There have been many instances where the lack of security has proven to be a lethal weapon to some communities. It seems as though it is one the biggest causes of fear a parent can face.
Many administrations have a tight budget for what they can spend on security, and most do not see it as a big issue that relates to their school. The Security Industry Association has been trying to support increased federal assistance to schools struggling with the cost of meeting security needs, so that students can be prioritized rather than be put aside out of convenience.

Loading ...
This action makes complete sense; it will prevent unknown school members from entering and posing a threat to the school. Making sure that no one is allowed in before a certain time will help decrease the amount of people in the school before it is absolutely necessary to allow students in. Even when all doors open in the morning, there is someone standing by the entrance, making sure that only students are entering. This ensures that all precautions are being made to make sure that the students are protected at all times.
On the other hand, not being allowed to have more time in the morning before school means that they have less time to finish homework or have a club meeting, which cannot happen at the end of the day because of other activities. Some students like having the extra time to make sure they are awake, grab something to eat before school or just to hang out with friends.
Other solutions were discussed and would be just as effective, but this was the simplest and foremost timely option. School is meant to be a place where students can come to learn and not feel like they are in constant danger.
For a few years, there have been security guards and a police liaison walking around the school, before, during, and after hours to make sure there are no suspicious activities going on. The administration has also bumped up the time after school for when students need to be under direct supervision of an adult or need to be in the cafeteria if they are waiting for a ride or for someone else.
Even though not everyone agrees with the new policy, it does make a difference. Students now feel as though their administration cares about their safety and altogether feel safer when they come to school. The most important thing to know about this new policy is that everyone at the school is working together to make the building a safer place for both students and staff.