Drevlow hunts for microadventures
Hang on for a minute...we're trying to find some more stories you might like.
Assistant Principal Aaron Drevlow packed his phone, credit cards, two Co2 canisters (just in case) and a half-full bottle of water. He mounted his impressive road bike that he loves to show off to students and headed off to another day at work, rain or shine.
"Well, 1999, 1998, I started riding to work whenever the days would allow," Drevlow said. "I was training for an Iron Man… and I just needed to get time on the bike because I was traditionally always a runner."
Most students only know Drevlow as the Red Pony Center's Assistant Principal. He is the one with the awesome hair roaming the halls, seemingly always in search of something. Seldom does a student know that he is a decorated athlete with a passion for all things running and cycling. Unless said student is on the Mountain Biking team, which he has gone on excursions with before.
Senior Grant Hietpas joined the mountain biking team when he was in eighth grade. He met Drevlow just a short year later. He and one of the captains of the team at the time invited Drevlow to a race in River Falls. Hietpas mentioned that Drevlow riding with the team has helped it take off from 40 people to what it is today.
Hietpas said, "He seems very committed to whatever it is he's doing whether it's athletics or academic and his role as an administrator or just generally, like, he seems to be very committed at just about everything I talk to him about."
"..if not for the mountain biking team, I wouldn't know the guy," Hietpas added.
Nina Gieser is the Red Pony Center's secretary. She has worked with Drevlow since 2008, when he hired her. Gieser has never been on a bike ride with Drevlow herself, but she has seen him arrive to school from a run or bike ride many times.
Gieser highlighted some of Drevlow's great qualities, "I have seen him come in when he was a runner with ice on his face from running in cold conditions… He is very athletic and driven and agile."
"
He seems very committed to whatever it is he's doing whether it's athletics or academic and his role as an administrator or just generally, like, he seems to be very committed at just about everything I talk to him about."
— Grant Hietpas
However, it has not always been sunshine and bike treads for Drevlow. When he was 42, he was told that he had a genetic hip impingement.
"Basically there's a bump on my ball-socket and that bump finally wore through cartilage," Drevlow explained.
He went to see a surgeon and, thankfully, the surgery was successful. However, there was a catch. He wouldn't be able to run like he used to.
"That was a whole odyssey unto itself… [The doctor said] Yeah, I got an 80 percent shot that I can help you get back to running like you did before… but you got about five more years and you're going to need a hip replacement," Drevlow said. "Well, what if I started doing something different?" Drevlow asked his doctor. That's when it hit him! Cycling! His doctor agreed. "[The doctor said] if you start cycling, you're probably lengthening the time between now and when you need a hip replacement… it was just one of those things I was forced to; my first passion was running to now find something new in your mid 40s," Drevlow added.
Drevlow explained another reason he continues to cycle. Alastair Humphreys was the National Geographic "Adventurer of the Year" in 2012. He won because of his philosophy and invention of 'Microadventures'.
"Basically, his theory is you can find adventure no matter where you're at," Drevlow explained.
"I've said to my son, even, 'hey, we're going to go camping'. And even though it's not a campsite, we might find a spot and throw down our sleeping bags and we're just going to sleep in this park tonight… Those moments that you're sitting in the woods together just kind of hanging out there, right? What are you doing here? We're just going to sleep. Why? Because it's kind of an interesting thing," Drevlow explained.
Drevlow has left a lasting positive impression on almost everyone he talks with. Drevlow is senior Emma Albrecht's Assistant Principal. She met Drevlow when she had some complaints about a teacher.
"I walked into his office and I saw his amazing road bike. And I asked him about it and he just started talking and it was really funny… it was like he was a little kid, 'oh, this is my bike, like, I love this,'" Albrecht explained.
This isn't the only time Drevlow has shown his passion and enthusiasm for cycling, neither was this his first time he had shown off his bike to a student. Senior Eli Roll had a similar experience with Drevlow as well.
"So there's this one time that [members from the mountain biking team] were going to talk to him about a mountain biking event. He had this bike sitting inside his office. So, we walked in and talked to him about the upcoming practice. And then as we were turning around to leave, he called us back into his office and started talking about his bike and showing us all the cool things about it. Just kind of a memorable, cool thing to see a counselor do or Assistant Principal [do]," Roll explained.
All of the interviewees agreed that biking with others is usually superior to biking solo and they would all be willing to go on a bike ride with Drevlow someday day in the future.
"I think, just his enthusiasm would be great to have around. I'd love to just ride with him, talk to him and just have a good time. Although, I'm afraid I probably wouldn't be able to keep up," senior Grant Hietpas added.
About the Contributors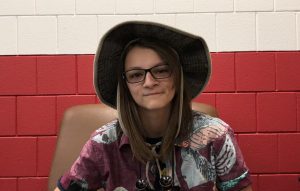 Taylor Lee, Distribution Reporter
Traveling around our community in search of the right lead!

Hello Internet! I'm Taylor Lee, I'm a Distribution Reporter at The Pony Express this...