Freshmen volleyball players take varsity by storm
The excitement and adrenaline controlled freshman Lucy Zollar as she sat patiently on the bench on her very first varsity volleyball game. She was focused on putting all of her feelings into each touch on the ball. " When I heard the words come out of Bob's mouth that I was in, I got really excited and just wanted to impress everyone," Zollar said.
Athletes feel this way during their first game of the season. However Zollar and Olivia Foss are both freshmen on our varsity volleyball team. For them, the first game was filled with much more pressure.
This is not the first time Head Coach Bob Fisher has accepted freshmen to his team, for example Maddie Whittington. He is eager to bring Zollar and Foss up to play with him this year, due to their exceptional skills and sportsmanship.
Zollar is a defensive specialist for the team, she plays in the back row to pass. Olivia Foss on the other hand floats between JV and Varsity. For both teams she is a setter.
The girls trained hard at the volleyball camp that took place every Monday, Wednesday and Friday this summer. This not only prepared them for the Stillwater tryouts in August, but also allowed the girls to work with the varsity team and Fisher before the season began.
"I look for girls that have good skills and know how to play the game, but they also have to be team players and understand that we before me mentality," said Fisher. The volleyball coaches look for these attributes in each player.
Despite working with the varsity team and all the coaches during the summer program. Zollar and Foss were still surprised and excited by their team placement.
"It was a big surprise. I did not think Bob was going to make a big team this year, so I thought my place would go to an older girl," freshman Zollar said when asked about her initial reaction to making the team.
As the season continues, the girls are settling in to the team. The freshmen and upperclassmen are bonding and creating friendships on and off the court.
"The older girls are super fun to be around and its great to be around girls who share the same passion as you,"  freshmen Foss said on her relationships with the rest of her team.
"
I recognize the intimidation and pressure, but the two freshmen we have now are coming to practices and working hard. We're very happy with them."
— Maddie Whittington
However, despite their friendships, the freshmen still feel intimidated when playing with their older teammates. The girls recognize their role as younger players and use that as fuel to work harder in games and practices.
"I recognize the intimidation and pressure, but the two freshmen we have now are coming to practices and working hard. We're very happy with them," junior Maddie Whittington said. Whittington was also placed on the team as a freshmen. She is now playing her third year as a captain.
The freshmen not only have a relationship with their upperclassman team members, but also look to each other for support as well. Although the girls play different roles on the team, they find relief and comfort on the court in each other.
"I like it when Olivia comes up to play with us because it's nice to not be the only freshman on the team. She can relate to me a lot so it feels good when we play together," Zollar said.
Zollar and Foss are very excited for the upcoming season and so are their fellow teammates and coaches. "Everyone has accepted Lucy and Olivia very well. it doesn't even feel like they're freshmen sometimes," Fisher said.
About the Writer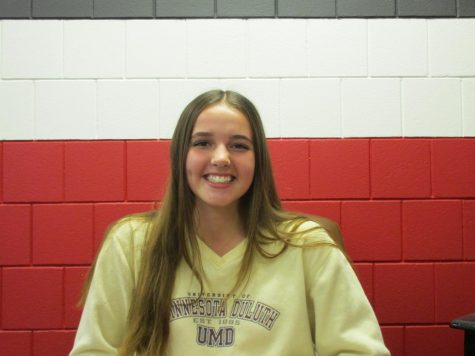 Dylan Stormoen, Copy Editor
Hi! My name is Dylan Stormoen, I'm a junior here at Stillwater and I am a copy editor for the Pony Express. I play club volleyball for SAJO and I am also...