Paraprofessionals create learning opportunities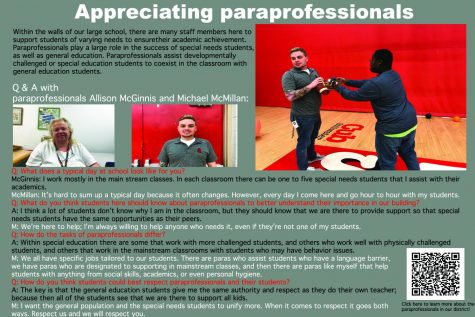 Paraprofessionals have worked worldwide in schools for many years. From helping kids transport to class to teaching them lessons, they are around when students need them.
There are over 40 paraprofessionals at Stillwater Area High School. They provide immediate and continual support for the students who must have it. The special education program would be unable to operate without the constant help from the paraprofessionals who assist students with learning disabilities.
Allison McGinnis has been a paraprofessional at SAHS for 27 years. She originally got a degree in biology, then decided to go into special education to assist students who need help in science classes.
"My role has kind of morphed over the years. There is such a variety of things that paras do at the high school. With me in particular I am mostly in mainstream classes and what my role is to assist students who have learning disabilities, staying on task, behavior issues, that type of thing," McGinnis said.
Jay Knutson has worked as a paraprofessional for 5 years. He graduated from Gustavus Adolphus College with degrees in geography and business, and decided he wanted to figure out a way to work with kids.
"
I think it is important for every learning type to have educational opportunities, and in order to have that, they need para's to help with additional support."
— Allison McGinnis
"I provide direct support for students when needed whether that be with special education students, handicapped students, or students that just require more attention from the staff," Knutson said.
According to sciencedaily.com, learning disabilities affect up to 10 percent of students in the world. Whether that be autism, dyslexia, or physical impairment, schools are able to provide support to all types of students due to paras choosing a career path to help kids learn.
"I think it is important for every learning type to have educational opportunities, and in order to have that, they need para's to help with additional support. If we didn't, we would have a lot of kids I think failing classes," McGinnis said.
People of all ages and learning types should to be taught and aided in a way that works best for them. Paraprofessionals make this possible by assuring every student they assist has an equal amount of opportunities as another student, who may not require the extra help.
"Without paraprofessionals, our students with disabilities would not get the time they deserve to work through certain lessons in school and kids without learning disabilities wouldn't necessarily get all the attention they require from their teachers either," junior Greta Elliott said.
From working with and observing how students with different educational challenges operate, Knutson said he has learned a lot.
"I have learned that when you are working with special education students, it is very raw, you see the very basics of humanity. It kind of humbles you, you can see yourself in them, you can see what they do in everybody because they do not have any barriers that they put up. That helps me understand how all humans function in general," Knutson said.
About the Writer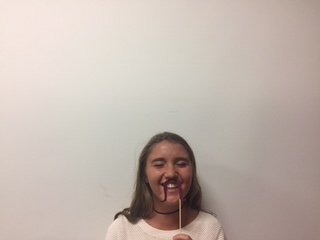 Rosalie Braun, Online Editor
Rosalie Braun is a junior and an online editor for the Pony Express. She writes for People department. Her favorite out of school activity is playing the...