Mary Peters leaves lasting impact on students
Hang on for a minute...we're trying to find some more stories you might like.
Stillwater Area High School lost a beloved colleague, friend, mother and media center paraprofessional in March. Mary Peters passed away in March at age 54 after a a two-year battle with a secondary cancer. Peters always had a smiling face that every student encountered when they entered the library.
Peters worked as a para for about six years, three of those at SAHS and did a wide range of jobs in the Media Center. Whether it was taking in books that students were returning or decorating the library for a holiday, Peters left her mark on the Media Center. In addition to overseeing the media center, Peters was involved with Amnesty International for the past two years. She also supported the Democrats group.
Instructional coach Andrea Schueler said, "I know the Media Center hosted some lively debates between the Young Democrats and Young Republicans."
"She helped with taking care of the books. She basically took care of the library. She did a lot of the decorations and things like that and made sure everything was kept in order," senior Silver Byrd added.
Peters participated in student learning support. This program is for students that are struggling in school or with a learning disability. They are put into an intervention program so they can receive help needed in specific areas. The goal is to help students so they can meet proficiency in state and national standards.
"
It's always so hard to condense a beautiful, well-lived life into a few sentences. I think the last important thing to say is that Mary made people feel special."
— Andrea Schueler
"I think she was very dedicated to her job. And I think that a lot of people who would've been put in charge of the media center, wouldn't really approach that job with a lot of importance. I think she really upheld her job a lot," senior Fiona Mattson said.
"Mary made all students feel welcome in the Media Center. She did things like order new books, check books in and out, organize all the classroom novels that English teachers read, organize all the textbooks that go out through the library, help students find books and materials, help students use the different databases, etc, etc.  Mary loved to present the Media Center well.  She always stayed late (unpaid) the night before the student of the month breakfast to clean the tables and the bookshelves.  She wanted to make sure it was a welcoming place for families," Schueler said.
"Mary had some big plans for redesign in the media center.  She hoped for more flexible, comfortable seating and a more open space.  She wasn't able to be here to help bring that to fruition.  I also think of Mary's work to highlight books.  She changed the displays frequently, usually to match a theme for the month.  One of my favorites was for poetry month three years ago.  Mary had books out for students to make book spine poems – read the titles to make a poem.  She also had a poet-tree that year.  She brought in a large tree branch and had students hang favorite poems on it.  She also won the Homecoming door decorating contest in fall 2016 with the pony exploding out of the Media Center window.  Everyone always commented on the computer holiday lights she put out to brighten the dark winter days," Schueler added.
Peters was a very maternal person. Her life revolved around her kids Ben, Johnny, Colin and Maddy. All three of her older children graduated from SAHS and sang in the choir. The SAHS choir sang at her funeral under the direction of Erik Christiansen.
Schuler said, "Mary loved her role as Mom, and was so proud of her kids."
Some of Mary's interests beyond her work at the high school included sewing, knitting and cooking for her four kids. When her three sons were in the Stillwater choir, she chaperoned many of the trips.
"[She] was just a very motherly type. She had these homemaker skills, that was just her thing. [She was] very family oriented. She liked to cook dinner for her family on Sundays," media center colleague Marc Wade said.
Peters originally studied fashion design in college; she showcased her creativity throughout the library with computer light decorations, her poet tree and even decorating her door for homecoming each year. She also loved to look on Pinterest for new ideas for the library.
Peters was able to intertwine her values into her work, family life and every opportunity that came her way. Whether it was talking to students and seeing how they were doing, to working hard to provide for her family, she showcased a work ethic and positivity that was loved by many.
"It's always so hard to condense a beautiful, well-lived life into a few sentences. I think the last important thing to say is that Mary made people feel special. I had so many conversations with staff around the building who told me why they had a special connection to Mary.  I have my special connection to Mary too.  Each of our stories are different, and yet we each feel that special connection.  That's because Mary made each person she talked to feel special," Schueler said.

About the Writer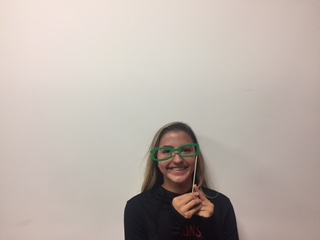 Abby Begin, Field Reporter
Abby Begin writes for the departments of sports and people for the pony express newspaper and she is a field editor for the newspaper. She plays for the...