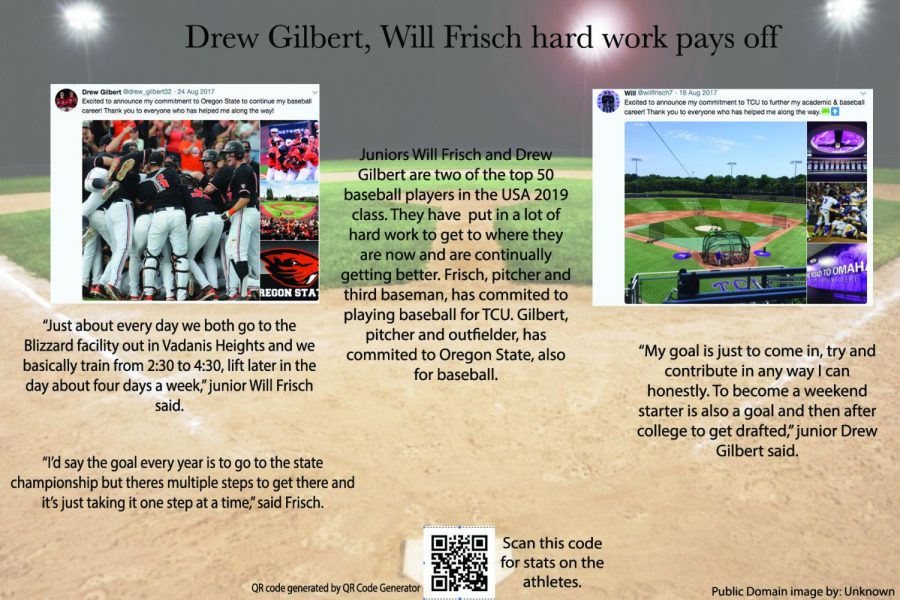 Best friends take state, college baseball scouts by storm
March 19, 2018
The chances that any given baseball player makes it to the Division 1 level is 2.8 percent. Two students have overcome those odds and are committed to Division 1 schools to further both their academic and baseball careers.
Junior Will Frisch is committed to Texas Christian University in Fort Worth TX.  Junior Drew Gilbert is committed to Oregon State University in Corvallis OR.  These two athletes share a special and unique relationship.
Frisch and Gilbert have been playing baseball together since kindergarten, and in the past 11 years they have been making large strides towards achieving their goals and becoming the people they once watched on T.V.
"Ever since I was five I wanted to play in the MLB so badly," Gilbert said.
And as time went on, the dream of playing in the big leagues slowly became more and more of a reality.
"[I didn't think it was a possibility] when I was younger but it just got more and more real as I grew up," Frisch said.
Frisch is taking big steps to turn this dream into a reality. He has shown impressive amounts of potential and staggering stats and performances on the field. As only a sophomore, Frish could pitch over 90 miles per hour.
Being able to throw the ball quite fast gained the attention of many schools, but only one stood out to will, TCU, but as he kept trying to get better and better, his body wasn't appreciating the wear. Just recently Frisch went in to the doctor because he had been experiencing pain in his elbow area. The doctors informed him that he had suffered a UCL injury due to overuse. He is extremely disappointed but will not let this injury impede on his dream.
"It came back that Will's injury is a lot less than what people thought, so he's hopefully going to be able to pitch again for us this year,"  head coach Mike Parker said.
While losing Frisch for a portion of the season may not be ideal, it is also not the end of the world. There are many other pitchers on the team, and with Will out of the picture for a period of time it will give the team time to develop more pitchers.
Frisch certainly is not the only D1 caliber athlete playing for Stillwater this year. Gilbert is committed D1, and Coach Parker believes that there are individuals on the team that have the ability to continue on to the D1 level.
"
Ever since I was five I wanted to play in the MLB so badly."
— Drew Gilbert
"There is a lot of kids on our team that might be able to play college baseball if they really want to," Parker said.
Gilbert pitches along with playing outfield, so there will still be at least one high caliber athlete at the mound and it will ease the stress of finding replacement pitchers for Will.
Gilbert and Frisch share more than just a bond as teammates on the field.  They are even more than best friends on an off the field.  The two describe themselves as "psychotic best friends", "too much for most people," and "a little extra."
While they describe their friendship as crazy, you could never tell by watching them play.  The two play with heart and intent, and it is obvious to see why they were chosen to play at the next level.
"It's interesting to see two players who are so good who are such close friends," Parker said.
With the two best friends being committed to colleges already, neither of them have to play under stress and worry about impressing college coaches.  The two can just have fun and do what they do best: play baseball.
Although Frisch and Gilbert may be slightly more relaxed these next two seasons, it doesn't mean they will not be working hard and trying to become the best they can be.  They have their expectations for their team set high both this season and next.
"The high school season is always great. Our goal this year is to make it to state, and if we make it to state this year then our next goal is a state championship next year," Frisch said.