Goetzke dances through life
Body-aches, tired muscles, swollen feet, extreme exhaustion. All of these sound like symptoms of an illness, or side effects of a medication, but for freshman Isabel Goetzke they're proof that she's done something right. Ballet is a historically difficult type of dance, with dancers trying to obtain the highest degree of flexibility and endurance. Goetzke often comes home tired and sore, but also jubilant and happy.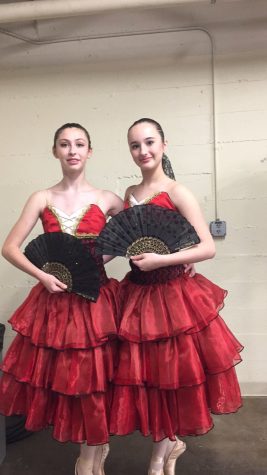 Dance is often perceived as "easy" or not physically demanding, but for Goeztke it is anything but simple. Hours of hard work, sweat and tears put into learning new moves, and gaining endurance. More than physical exercise, however, ballet is an art form. It is a way for Goetzke to express her feelings, without having to use her words. Expression is key. And for her, a valuable idea.
Physical and mental benefits
"With dance we don't really do competitions, so there's not like a marking point where you're like, 'Oh! I won,' but there are days where you noticed that you've progressed, making that feel like a good accomplishment," Goetzke said.
When she dances, Goetzke is able to let go of everything around her and focus on the sport. She finds it stress relieving and relaxing, a way of shifting the focus to her physical movements instead of all of the everyday worries have come with teen life today. For her, it's all about the rhythm. Ballet dancers have to memorize many kinds of movement, and extreme concentration is valuable.
"I have been dancing pretty much my whole life," Goetzke said. "It's odd, because you won't notice [the progression], and then you realize 'wow, that happened', it's really slow, but you can see it."
Ballet comes with a mental reward, but it also comes with a physical reward. The constant drive to push our muscles, having aches and pains, as well as injuries due to the sport is common. Goetzke finds this is all part of the process, that it is a sign of improvement rather than physical strain.
"My favorite part about dance is the steady progression, [as well as] the physically activity of doing the dancing. If you put certain amounts of effort in, you'll see the results," Goetzke said.
From studio to stage
Goetzke started dance very early on. She has only done ballet, choosing to focus on the one types of dance instead of branching out and trying other types. Throughout the past few years, she has progressed and performed in ballets publicly, such as the Nutcracker. To her, performing publicly is a whole different feeling than dancing for herself.
"Performing is the fun part, I would say, actually, I usually forget I'm on stage until I get done," Goetzke said. "Performing on stage is like a land mark, it's something that you can see. When you started rehearsing that piece, how it was, and how difficult certain things were, and then once you perform you can basically see your improvement through it."
"
Performing on stage is like a land mark, it's something that you can see. When you started rehearsing that piece, how it was, and how difficult certain things were, and then once you perform you can basically see your improvement through it."
— Isobel Goetzke
On stage, dancing is a whole different feeling. While in studio, Goetzke dances for herself, but when she hits the stage she enters a whole new mindset. She still is dancing for herself, yet she is also dancing for hundreds of people. Most recently she performed in he Nutcracker with the Moscow ballet at the Guthrie theater. To hear the applause, see the lights, and feel the constant movement from the dance can be exhilarating.
"My sister is a dance maniac," brother senior Isaac Goetzke said, "She's been dancing for as long as I can remember."
Even to her family it is obvious how much she loves to dance. It is evident in everything she does, and it shows through her various forms of self expression. Many times a day they will see her dancing around the house or humming music from a piece that she is working on.
Plans for the future
"[Dance] puts a lot of stress on your body, and when I wake up in the morning there are times when it's difficult to walk down the stairs, but it is rewarding," Goetzke said.
Although she spends countless hours in the studio, dance is more of a hobby for Goetzke than a real career path. She plans to continue dance until school interferes, citing education as an important factor in her life. As a freshman, she has three years left before college, and she plans to use those to their full potential.
"When I 'm dancing it is really stress relieving, so like if I've had a poor day at school, or I just have a lot of homework, and I go, it will actually just lighten my spirits and make me feel better," said Goetzke.
Dance, although maybe not the forefront of her mind, is a way of life for Goetzke. She has a hard time imagining what her life would be without it. She goes to rehearsal and practice everyday, and continues to dance even at home. Dance has become a part of her, and lets her grow within herself as well as outside.
"I plan to continue dancing as long as I can, until it interrupts with school," Goetzke said, "I don't really think [when I dance], I think that's a lot of what I enjoy about it, I'm not thinking about anything so it can help me take my mind off stuff."