Fatima Menawa defines character with standout essay
Hang on for a minute...we're trying to find some more stories you might like.
Martin Luther King once wrote: "Intelligence plus character-that is the goal of true education." This fall BestPrep hosted an essay competition for over 400 students. Students had to write an essay on the quote above and on two questions about character that were given to them by BestPrep. The two questions were: Why is it important for students to develop their character alongside academics? How has your educational journey and life experiences developed your character? BestPrep has been doing this competition since 2008 and this year was a special one for junior Fatima Menawa.
Menawa found out about this competition from her AVID teacher, Brandon Maxwell. She decided to take on the task and write an essay. However, this was not just any other essay competition. This competition has its advantages and its rewards. The top 20 student winners and their respective teachers will be invited to a celebration reception with the Educational Forum keynote speaker Alan Page at the event on Oct. 24.  
"I was really excited. Mostly shocked, but once the shock wore off I was like, wow this really happened. I felt so accomplished because you feel like you put so much work into something, and you don't think it's that good, but then someone else recognizes it," Menawa said.
Menawa places in essay competition
Fatima Menawa was named one of the top 20 students out of the 400 students in the competition. She ended up placing 18th and won a $50 Walmart gift card. This meant that she and Maxwell were able to go to the BestPrep Educational Forum celebration reception event with Alan Page, who is a former Minnesota Supreme Court Justice and NFL Hall of Famer.
When talking about how the event with Alan Page was, Maxwell said, "It was really cool. We got a chance to have this kind of private seminar with Chief Justice Page and he gave a lecture, or a speech, and talked about the importance of recognizing diversity, facing adversity, being a part of change and a culture. Also, students were able to ask questions and hear from other professionals from working around the St. Paul/Minneapolis area who shared their thoughts on the same topics."
Maxwell added, "It was really cool to see that there are people out there who are thinking deeply and taking action on things that are affecting our world."
Inspiration for writing
Diversity and facing adversity are two things that are still all in the world today. This essay and seminar put together by BestPrep helped students to not only think about, but to learn and to create solutions and help characters with diversity and facing adversity. All of the students and teachers who attended the event were able to ask their own questions to Alan Page and other professionals. The questions did not have to be of a certain topic. Also all of the students and teachers had time to interact and meet the other competitors and their teachers, which can be nerve wracking, but also it can be very beneficial to learn new things and to learn each other's opinions.  
"I thought it was a neat opportunity for them to get an experience to write something for a real audience, a real purpose. Something that would go beyond the classroom, which is always a really neat thing for students to be able to take part in, and it challenged them to think about how they could or how they saw diversity impacting their life and their world and what they thought about that and how they could, what they could do with it," Maxwell said.
When Maxwell, along with hundreds of other teachers in the state introduced this topic and essay, it was a thoughtful and moving task at hand for the students to think and write about what character means to them. No more than three winners would be selected from the same school. This rule made the competition an even more daunting task because not only did the student have to go up against all of the other students competing from different schools, but they had to go up against their own peers, and the students had to write their essay in 600-750 words.  
Recognizing the strong part
"I think the strongest part that I felt I was empowered by, was the part where I talked about standardized testing and how we as students shouldn't be put into boxes and why should we be defined by a number because there are so many other things that go on in a student's life that can contribute to their school life and to tell students that once they get into school the only thing that matters is your school work. That doesn't work," Menawa said.
"
Intelligence plus character-that is the goal of true education."
— Martin Luther King
In every article, book, video, etc. there is always a strong part to it that somebody recognizes. It may be recognized by one person, or it may be many. It may be recognized by similar people, or it may be different people, but every person recognizes a strong part of a piece of what they are looking at or reading. Menawa found her strongest part of her essay, and she expressed her opinion. She taught and moved many people about what defines character, and she was recognized for her work.
"Character is who we are at our core. It's what determines what we believe and how we choose to respond to a given situation. Character is not something we are born with, nor does it develop automatically it must be consciously developed. Character is not something that is static. We will be forced to re-evaluate and renew our character again and again. How we act today, and every day for the rest of our lives, will define who we are. People of character take responsibility for who they are and for what they do," Page said.   

About the Writer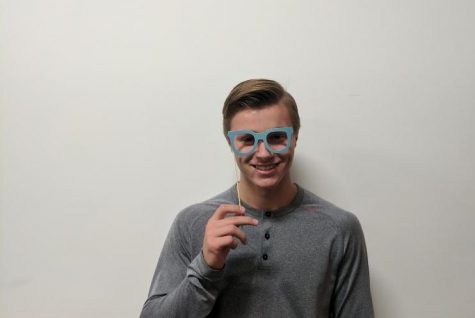 Jesse Brown, Podcast Reporter
Jesse Brown is a Field distributor that passes out newspapers to local classrooms and businesses, and he writes for people. His favorite hobby is to be...