Ted Hammond dedicates life to finding truth in JFK assassination
Hang on for a minute...we're trying to find some more stories you might like.
"JFK was shot from the front. And I think that the shooters escaped and after John F. Kennedy was killed, the investigation was covered up," Ted Hammond, local JFK researcher, explained.
Ted, father of English teacher Laura Hammond, has been working since his college years to find out what truly happened in the JFK assassination. JFK was thought to be shot by Lee Harvey Oswald, who was declared the killer by four federal investigations and one municipal investigation, was shot and killed in police custody in 1963. His exploits have been studied many times by numerous conspiracy theorists, who have found concrete evidence that Oswald could not have been the killer.
"
He's not just reading stuff; he's looking at these things and studying them holistically. I feel like he has a really good handle on what went down."
— Laura Hammond
"In college, I heard a talk and offered my photographic help to the speaker. He was a national researcher and I worked with him for a number of years," Ted recalled.
Working as a photojournalist for most of his life, Ted had special experience in his ability to identify altered photos, clean up blurry images and revert those altered images to their original states.
"Some  of the evidence that we were finding didn't add up, so we would dive more into researching evidence. Some people form conclusions right away," Ted explained. "Some people get a piece of evidence and immediately go off in one direction,  and some people get the same piece of evidence and go off in another direction. What I'm trying to do lately is just follow the evidence and not draw conclusions."
On the topic of other conspiracy theories, he knows little. Conspiracy theorists are often labeled as crazy and written off by the public at large. Taking a more professional nom de plume, Ted focuses all of his energy on his case.
"New evidence is coming out, too. It's been 54 years now, and we're still getting new evidence," Ted added. "We already knew most of the things [that were in the JFK files]. . . The real question is, 'Why is the CIA hiding this evidence?'… I think they're hiding something."
"Whoever covered this up had the ability to create fake secret service credentials. Also, the investigation and the report, the one report that came out to show us all the evidence, evidence was denied to the Warner Commission, the autopsy was botched, evidence has been altered, evidence has disappeared, and so some agency in the government that would be able to cover up this investigation," he explained.
To young researchers, Ted cites the Education Forum as the "one best place," to find information on the assassination and investigation.
"The old evidence tells us everything we need to know. So if a young person wanted to get involved in this, I would suggest reading the books that have already been written. Someone, young or old, can go onto Facebook and type in 'JFK' and there's a number of groups that talk about the assassination. And if you wanted to network with people already involved in the investigation, that can be done on Facebook. Very easily," Ted explained.
Laura has seen firsthand how in-depth her father's research is, and how he cares about his subject matter. Through online auctions and complete devotion, Ted has created a great evidence source for his research.

Loading ...
"Knowing how much he has researched, and how many people he has talked to who are primary sources, or direct secondary sources… I believe what my dad believes, only because I don't really know anything else," Laura explained. "He has been researching this since his college years. He has things that he didn't talk about when he was here. He has the exact camera that was used to take that photo of Lee Harvey Oswald in his backyard. He has the exact gun that was supposedly used by Lee Harvey Oswald… He's not just reading stuff; he's looking at these things and studying them holistically. I feel like he has a really good handle on what went down."
Laura didn't know much about her father's interesting life growing up. She learns more about him every day, such as the other topics he researches during his free time include running, sailing and boating.
"My dad has retired in the past couple of years and so he has more time to do things that interest him. He works with the Boy Scouts, with their sailing program, because he was 11th or 17th in the world in sailing. That's just another thing that I learned later in my life, and I was like, 'How come I've never heard this? Like, you are a world-class sailor!'" Laura said.
When asked who he thought really killed JFK, Ted said, "That's the million dollar question, isn't it?"
"And we may never know. A lot of people say it's this group, a lot of people say it's this group and other people say it's this group, and a lot of people believe that Lee Harvey Oswald was the assassin," Ted said.

About the Writer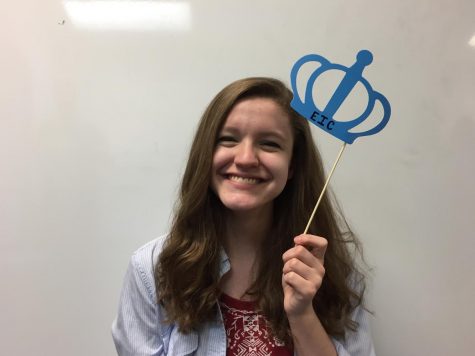 Abby Banks, Editor in Chief
Abby Banks is a junior and is a Print Editor-in-Chief on the Pony Express. Her favorite fruits are pineapple and passion fruit. She is junior officer of Amnesty International and Key Club, Vice President of Physics club, and involved in Math League and NHS as well.  She enjoys reading and social activism, and lived in...