Improv Troupe prepares for Winter Showcase
Mya Lysne, Read and Wach Team Video Editor
November 22, 2017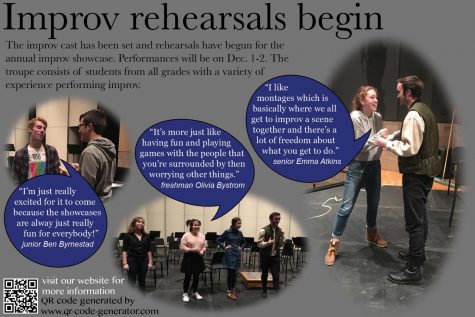 When Stillwater students think of the holiday season, many things come to mind: chestnuts roasting on an open fire, snow, Christmas parties, more snow, peppermint mochas and hot chocolate. However, the students involved with Stillwater's improv troupe "The Jockeys of Comedy" do not have time to think about these things, because they have already started getting prepared for the Winter Improv Showcase.
Improvisational Theater is the art of acting and performing a scene on the spot, without any previous preparation. Many popular examples of improv exist on TV, such as "Who's Line Is It Anyway?"  and various components of NBC's iconic "Saturday Night Live".
Junior Wyatt Ecker has been involved with improv for just two seasons, and he enjoys it a lot. "Improv is really special [compared to] other kinds of theatre," Ecker said. "Because in many other kinds of theatre you have a director kind of telling you how to be."
Sophomore Elsa Persson had been involved with improvisational theatre for a while. She started out improving at HUGE Improv Theater in Minneapolis. This is her first year doing improv with Mr. Grif Sadow at Stillwater.
"I've had a lot more experience in long form [improv], and here we've only really done short form," Persson said.
Long form improv is a type of improv that is when actors perform a whole scene using the skills they have learned and create a story. Short form is much more brief, usually focuses on one aspect of improv and is more of a warm up or exercise.
"Short form is like a Youtube skit, and long form is like a TV episode," Persson explained.
"
Short form is like a Youtube skit, and long form is like a TV episode."
— Elsa Persson
Freshman Deklan Boren is just testing the waters of improv this year. "I've been doing theater and drama for a while, but I've only been in like three plays," Boren said. "I haven't done very much improv in the past."
In rehearsals, improvers do a range of activities. These activities can range from games and warm ups to long form scenes.
"One of my favorite activities is Freeze and Justify." Ecker said. "It involved two improvers, and in any point during the scene they have going, someone who's watching can call 'Freeze' and they tag someone out, take their exact body position, and continue the scene."
The Stillwater Theatre department has been putting on improv shows for just a few years.
"Improv is weird. It's really weird. You never know what's going to happen, and that's the whole point of it," Persson explained. "It's so fun to see the spontaneity of it and how random it is."
The Jockeys of Comedy perform on the nights Dec. 1-2, and again in the spring. Admission is free, but donations are appreciated.
About the Writer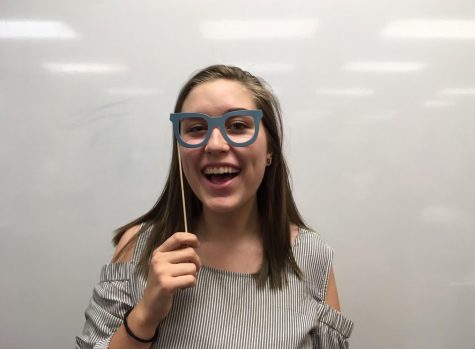 Mya Lysne, Video Boradcast Editor
Mya is a video broadcast editor and her traditional story is A&E. Mya likes playing the guitar, music in general, making playlists, singing, cooking,...