Local National Merit Scholarship semifinalists named
Hang on for a minute...we're trying to find some more stories you might like.
The National Merit Scholarship Competition is like no other competition for high school senior students. It is a competition throughout the entire United States. Less than one percent of students that apply are named semifinalists for their state.
With all the hard work, dedication and intelligence that was put forth, four senior students found their way to be named a semifinalist: James Wagner, Chelsea Lai, Joseph Hesse-Withbroe and Andrew Weigel. They are now competing to become a finalist, which will be announced in the Spring of 2018. There's about 7,500 National Merit Scholarships of three types that the students will be competing for to earn money toward their college tuition.  
"I think being recognized for academic achievement is something that I value. I do appreciate being able to articulate maybe a written achievement or written award that reflects all the time and hours and hours of work, staying up super late grinding out assignments, really studying super hard," senior Wagner said.
"
I think being recognized for academic achievement is something that I value. "
— James Wagner
According to nationalmerit.org "about 1.6 million students entered into the competition from all around the U.S. territories and commonwealths. Only 16,000 of those students were named semifinalists. All of the students who applied had to take a standardized test called the PSAT. The Selection Index scores of students who met program participation requirements were used to designate the pool of semifinalists."
"The counselors are required to do a school report and write a recommendation. As counselors we fill out all the paperwork. The students have to do an application and an essay as well," counselor Sandra Weaver said.
According to nationalmerit.org "the school official's characterization of the student and the student's essay play an important part in the process of choosing Merit Scholar designees. Activities, awards and employment are also considered. Winners in each state will be the Finalists judged by committee members to have the most distinguished credentials and potential for academic success."
Senior Chelsea Lai said, "I used my college essay, and writing my college essay took me about an hour or two. The topic that I chose to write my essay about was overcoming struggles."
Each semifinalist that applies to become a finalist has to write an essay. There are about 15,000 Finalists that are chosen out of the 16,000 Semifinalists, but still the essay that the student is writing has to be well written, and it has to stand out in order to be among the top 15,000 students chosen to be finalists. There are 16,000 semifinalists also trying to become finalists.
"I hope to get the $2500 national merit scholarship. I would be thrilled to get that money because that will really help with continuing my education," James Wagner explained.
According to nationalmerit.org "about 7,500 National Merit Scholarships of three types will be offered in 2018. A single- payment National Merit $2500 scholarship for which all Finalists will be considered for , but only 2,500 Finalists will receive the scholarship. About 1,000 corporate-sponsored Merit Scholarship awards will be handed out to Finalists who meet a company or business grantor's specified criteria. Finally, some 4,000 college-sponsored Merit Scholarship awards will be given to only Finalists who will attend their respective sponsor institutions."
"It's always good for a school to say that we have four semifinalists. It's kind of a report card of how well the school is doing, and if you can produce kids at that level. The school doesn't get all the credit though. The students have to be smart, and they have to be good students and intelligent to begin with. Some students can be very smart and do very well in school, but not be good test takers. It's a combination of those two things," Weaver said.
About the Writer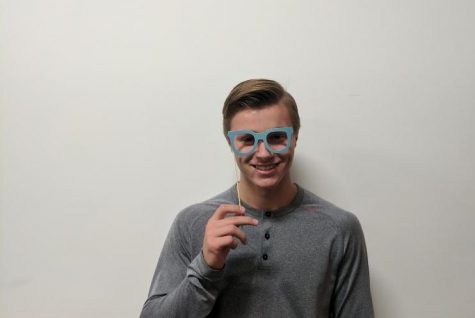 Jesse Brown, Podcast Reporter
Jesse Brown is a Field distributor that passes out newspapers to local classrooms and businesses, and he writes for people. His favorite hobby is to be...