Online system expands opportunities for scholarships
Seniors and students are gaining more and more scholarship opportunities in our community.
With about 60 scholarships given out each year, students are able to apply more easily to have opportunities for colleges and universities within the country and community.
Amy Carr, who works in the college and career center, talked about the opportunities and scholarships our school offers.
Carr said, "If you qualify, apply," when talking about the opportunities for paid education we have at our school.
To apply more easily for scholarships, the school will have a new system online for more applications and opportunities. This system will be live on Oct. 5 and the deadline for seniors to apply is Jan. 12. Visit the College and Career Center or website with any questions regarding the application of scholarships.
Senior and captain of the volleyball team, Rachel Houle, gained her scholarship to St. Cloud State University with hard work on the volleyball court.
When talking about advice for students looking to gain a scholarship Houle added, "You never know when the coaches are watching you." She explained, "Always be supportive of your teammates and cheer for every point."
About 60 students gain a scholarship per year at our school. Most scholarships in the community are gained by application but many others are offered to the students.
Junior Ian Ruh was offered his scholarship to Drake University when he took a physics test. Ruh said he was surprised to find out he gained the scholarship. "I didn't think I did very well on the test," Ruh said.
He was offered the scholarship last year and is thinking about going to a different school because of the opportunities the scholarship has opened for him at other schools.
The school gives away over half a million dollars away in community scholarships each year. Even multiple students get the same scholarship. Getting a scholarship can help someone apply for most schools and other scholarships.
Ruh also mentioned advice for students who are looking for a scholarship. "If you're willing to do a lot of the applications you can really find the money to get through your education," he said.
Many scholarships are available and any senior can apply if the student is qualified. There have been years where scholarships have not been given out because no one applied for the scholarship.
Students at the school are gaining and earning scholarships, and as can anyone by applying online starting Oct. 5. "If you qualify, apply," said Carr.
About the Writer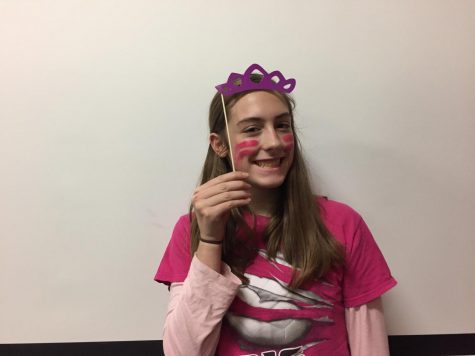 Morgan Grim, Photo Editor
Morgan Grim is in 11th grade and a Photo Editor for the Pony Express. She writes for the people and focus department. Grim participates and track, volleyball,...