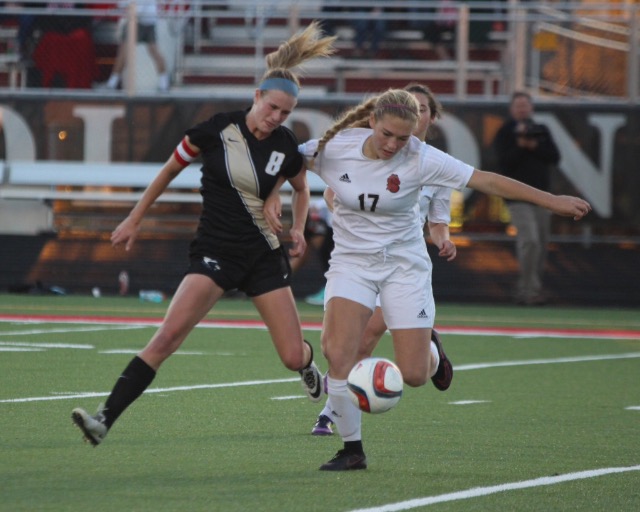 Throughout her high school career, junior Olivia Knox has been a dominating force on the soccer field. With the way she controls the ball and beats defenders, it comes as no surprise that universities have begun to take notice.
Knox, a forward on the girl's soccer team, has officially committed to playing Division I soccer at the University of North Dakota. North Dakota's Women's Soccer team is in the Big Sky Conference and plays against teams such as Montana and Idaho State.
"I'm excited to work with people who are determined to play at the highest level possible and put in work daily," Knox said.
Knox has been on the varsity team since she was sophomore and has greatly contributed to the team's success. Her junior year, she got the game-winning assist to upset Mounds View, who had previously beaten the Ponies. Her sophomore year, she scored the goal at the end of the game, which sent the Ponies into overtime where the eventually beat East Ridge in the section semifinals. Overall, Knox finished the 2016 season with six goals and five assists.
"I like to score, so I like playing forward. Just going out there on the field with your best friends and competing to the best of your ability is my favorite thing about playing soccer," Knox explained.
When she isn't playing MSHSL soccer, she is playing club soccer. Olivia also competes for the Minnesota Thunder Academy, an elite girl's soccer club that travels all around the country for tournaments. Many colleges scout these clubs for prospects and playing in these clubs helps players like Olivia stand out.
"My coach at MTA, Chris Citowicki , has helped me get recruited by a ton of colleges and he is always there to support me on an athletic and personal level," Knox said.
Knox will return next year with a strong soccer team which has many returning many starters. With another season to play, Knox will have plenty of opportunities to further impress her future coaches at UND. When the University recruited her, Knox instantly fell in love.
"I really love the girls there and the coaches are really awesome and they focus on what you're doing right, rather than what you're doing wrong. Also the campus is super pretty," Knox said.
Knox has become known as an extremely hard working and animated part of the team over the years and she has gained the respect of many of her teammates.
"Olivia is one of those players that whatever their mood, no matter what the weather is or how hard the workout is, will always give 110 percent," teammate Ava Pagnucco said.