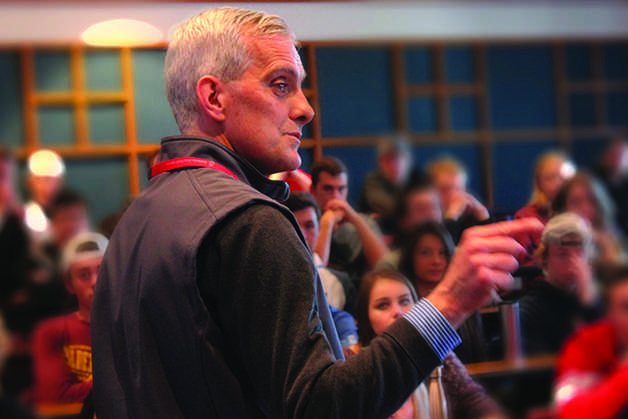 meadortiana
Denis McDonough, former President Obama's Chief of Staff, visited Stillwater Area High School during periods two and three on March 15. As the uncle of one of the students at SAHS, and an alumni himself, he came to encourage students to become involved in the political process.
McDonough graduated from SAHS in 1988, before continuing on to complete St. John's University undergraduate program, and a graduate program at Georgetown. He worked as the head of Strategic Communications and then the Deputy National Security Advisor at the National Security Council during Obama's first term, and was appointed Chief of Staff after Obama's reelection as his fifth Chief of Staff during his presidency.
Life at the White House
McDonough worked for years in national security and joined Obama's team after he was called to fill Mark Lippert's shoes as the then-senator Obama's senior foreign policy advisor. He joined him on the 2008 campaign trail, knowing he was possibly leaving behind his job. After working at the National Security council for the first four years of Obama's presidency, McDonough applied at for the position of Chief of Staff in the White House. He describes it as a series of interviews with the President, knowing that Obama was interviewing other candidates at the same time.
"When I talked to the president about the job in January 2013, I told him I didn't think I could be an advisor, a policy advisor in the job because really my background, my expertise in policy is in national security things. The Chief of Staff, like the President, needs to cover everything: national security, economic policy, domestic policy, housing, energy, courts, everything. I said, so I can't do that for you, so if you want a policy advisor like  Ronald Manuel or Jack Bloom then you shouldn't hire me. If on the other hand, you want somebody who can manage the team and make sure the team feels good about the decisions and that you get decisions that are square, then I think I could do that job," McDonough said.
Daily life at the White House was varied. He would be the  at President's last meeting of the day, where he would take a walk on the Great Lawn as a briefing period, until 6:00, when Obama needed to be home for dinner. McDonough's job involved making sure everything was running smoothly, and in a way that was most efficient for the President to make the decisions he needed to to be able to do his job.
"At the end of the day, my job isn't necessarily to make the decisions, my job is to tee up different decisions for the President. And my commitment to the President is every decision that comes to you will be square. It's not going to come to you with a hanging chad. It's not going to come to you because I snuck it around somebody, Secretary of State didn't get a chance to see the memo, didn't get a chance to make his argument for the position. I'm going to make sure that the decision he makes is square. Yes or no, up or down, well argued and clearly laid out, as much paper and as much argumentation as you need. But it's going to be straightforward," explained McDonough. "Now, the other thing I know that I need to do in my job is any job that was easy should not go to the president, any decision that was easy should not go to the president. He has so little time, and he has so many decisions to make, only the most difficult decisions should go to him. So in that regard I did help make decisions."
He cites the use of force as one of the most difficult decisions to make. The matter of life and death is never easy, and the government wields great power in terms of decisions that impact everyone. Advice he got from former Chief of Staff Jim Baker (Secretary of State, Secretary of Treasury, and Chief of Staff twice) was for him never to think of himself as "chief," and think of himself as "of staff," because they serve the people.
"The challenge is to make sure that you understand that decisions you're making impact individual people. This is kind of a philosophy exercise, or something like that. This is a decision that means life or death for someone. And that's an enormous power that the United States government has, that the President has, that Congress has. And if you lose sight of the fact that those individual decisions impact individual people, then you're in the wrong business. If you're thinking a little to much about 'Oh, how does this play out in the press?' and 'What does this mean for my career?' that's not great. But if you recognize that, behind every decision, behind every policy, there's people that are impacted, then you'll do okay," McDonough added.
Increasing Problems
The increasing problem of "fake news" in the media has become apparent to the White House as well. Accessing the younger generation through reliable sources has become more difficult in the past years, especially with the increase of Americans getting their news from social media, which Pew Research Center found was roughly 62 percent of adults. The fake news epidemic, especially on Facebook, has even become a target for foreign adversaries, with Russian hackers being suspected of circulating fake news during the recent election.
"The place where people consume their news is so bifurcated that, as someone who's trying to affect how people see the government, you can't just call five guys and talk to them about their newscasts and then they'll share their news with 70 million people, it just doesn't work that way…So think about that the next time you read the news, and then think to yourself, who gave me this news that I'm reading? And if I had to write a paper for Mr. Bergquist [SAHS history teacher], would I source this news report? Put it in a footnote, and submit that to the teacher? Would I be embarrassed to do that? Or would I think it's not actually a verifiable source? Or is it potentially a source that comes from a foreign intelligence service that's trying to influence me? This is a major challenge I think, that we face in the country right now." He added, "I think that the big challenge for us going forward is figuring out how we protect our institutions from foreign powers who would like to use these kinds of propaganda and fake news to influence how people vote. Ultimately, journalists are a fundamental component of our democracy."
While conflict is by no means over, many have begun to tune it out as background noise. Old conflicts are no longer as interesting to teens, so when McDonough was asked about where he believed the next big conflict would come from, he reminded the room of current conflicts. He cited ISIL as a huge threat that need to be dealt with, but wasted no time in commenting on the growing conflict in the South China Sea.
"China would say that they see this a little bit like we see the Caribbean. We don't tolerate anyone else steaming through the Caribbean and hanging around down there off the coast of Florida. So they say, why do you get this special zone in the Caribbean, when that's all we want in the South China Sea. We have a different view. Our view is that the South China Sea, since there are so many people in Southeast Asia, is key shipping lanes, through which we need to send people, materials, oil, goods everyday, based under a very fundamental premise of international law which says there's freedom of navigation. You can't stop a freely moving ship which means nobody harm, but are just carrying goods from one place to another," McDonough said. "If we stick to our position that says freedom of navigation is an fundamental international right, and we need it to make the world economy work, then I think we're gonna be okay. If we show any kind of deviation from that, then I think we might have a problem."
He also cited North Korea as a growing threat. Their increasing nuclear power, as well as their fairly unknown leader who has recently been flexing his muscles with his suspected murder of his half brother, has led to especially uneasy tensions with the US.
"I think there's a reckoning with North Korea coming…it's continued development of nuclear weapons and missiles that an fly intercontinentally, that is to say from Korea to the United States, and the the ability to take that nuclear bomb and make it small enough to put it on top a missile that can fly from there to here means that we're on kind of a pathway towards significant confrontation so that wold be the hotspot which I'd b watching most," he explained.
The White House worked as a cohesive unit under the Obama administration. While there was some competition, as there is in all working environments, McDonough said the staff all worked quite well together. The Trump administration, whose leader has mentioned himself, and has been recognized as someone who encourages competition in his workplace, is unlikely to succeed through the same methods as Obama.
"The White House is going to either succeed or fail out of its own accord. It's not going to going to succeed of fail because of somebody else. I think, in any case, there's always going to be competition among staff, and that's good. One of my bosses once said that he considers debate the music of democracy. Without debate, you don't get democracy. And sometimes that music sounds bad, but it's really important. So I don't worry about debate within the White House, I just worry about a lack of clarity about who's in charge and how decisions get made because that affects how the decisions get implemented and so I think we've seen that now with the executive order on the travel ban and hopefully they'll start to straighten that out," McDonough added.
Family Life
Now that McDonough is out of the fray, he plans to sleep and spend time with his family. His immediate family lives in Maryland, but he enjoys returning to Stillwater to visit his siblings and his hometown. He want to focus on training the incoming workforce to work with the technology found in the modern age, rather than sticking by the same programs used since WWII.
"President Obama is the guy who really needs some sleep. He stayed up until two or three every morning doing his homework. Every night for eight years. He went home with a binder about [4-5 inches] big, stuffed with memos written by Secretary of State, C.I.A., Secretary Treasury, Department of Homeland Security, Secretary of Housing and Urban Development, national agents, councils, directors, and he read every single one of them. This guy did all of it," described McDonough. "So he's tired, or he was. He looks pretty rested now."
Freshman Grace McDonough was the one who asked him to come visit the school. She mentioned how odd it is for him to be as famous as he is, where he had a Secret Service detail at one point, when she still calls him by his childhood nickname. She even tried to edit his Wikipedia page when she was ten.
"Whenever we had family gatherings or whatever, he was always preoccupied or pulled away, and that's just a side effect of the job. We would go out skiing and then he would get an emergency call from the President and then he can't ski…It was important for me to show the students that it doesn't matter where you come from and you can go out into the world and be successful. And I also wanted to show him off," she added.
In light of the divisiveness of the recent election, the nation seems to be far less unified than it has been in the past. Denis McDonough wants the young people to remember their own power and that of who has control of history.
"Our country depends on you and your classmates to run it in a few short years. A country doesn't survive by itself, it survives because of the populace, the people who continue to invest in the government, continue to work for the government, continue to demand accountability and excellence from the government. And the skills we need for our citizens are developed right here in these classrooms, which is going to be even more important in an age of greater competition with countries like China and Russia, and it's going to be even more important as we get into this new economy of artificial intelligence and automation," McDonough said.