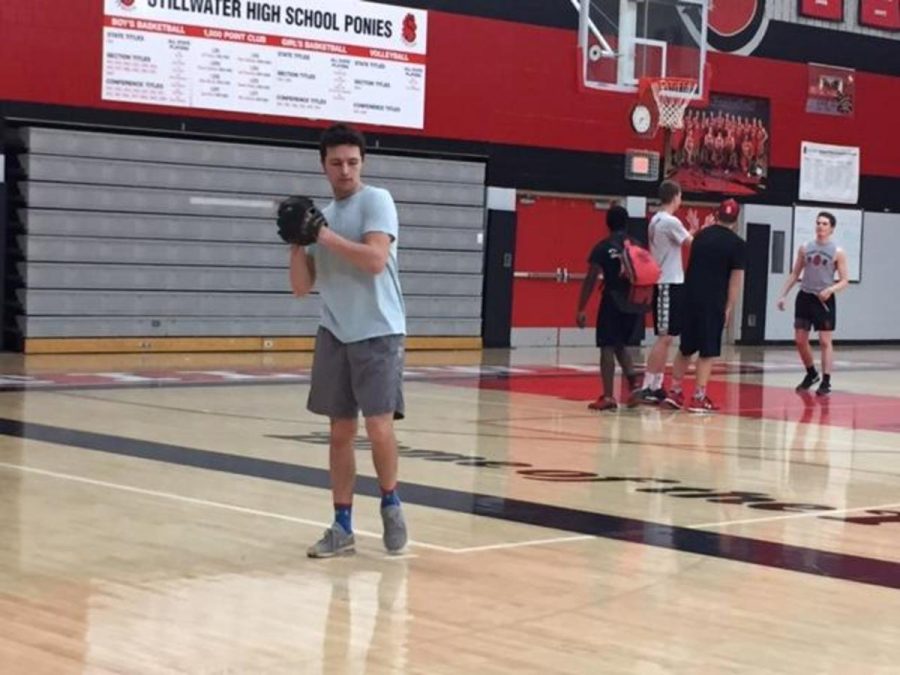 Travis Jacobson
Ever since he was young, senior Thomas Bruchu knew he wanted to play sports. Growing up with three older brothers that all played sports, influenced him greatly. Thomas now plays football, hockey and baseball.
Bruchu's competitiveness and need to win are what drive his sports life. It is what makes him good at all the sports he does and it makes him have the mental ability to be on three varsity teams a year. It is what he does most and he loves it.
"We grew up playing five sports together and obviously as you get older you have to narrow it down. I narrowed it down to baseball, hockey and football," Bruchu said.
Each of the three sports he does require its own set of skills. But the constant exercise keep him in shape for the next season. But when his sports go six to seven days a week during each season that is not a problem.
"There's not a particular skill that passes from one sport to another I'd say. I would just say competitiveness and the need to win is what overlaps," Bruchu said.
"He's a good leader. He's been on the varsity team for three years now. He's one of our best players," Head Baseball Coach Mike Parker said.
Bruchu's sports life and his personal life does not affect each other the way most people picture a busy athlete's life. Thomas has friends that both play sports with him and ones that do not.
"I have some great friends that I play the sports with. I just hate not being able to on a spring break trip with them," Bruchu said.
Of all things, a sport that Bruchu would like to try and has considered giving a shot is table tennis. With all the sports he does play it is difficult to fit any more in if something gets his interest.
"I've always wanted to play competitive ping pong but there's no leagues that fit my schedule," Bruchu said.
Bruchu manages his time a little bit differently than most, but for his kind of athlete it works. Fitting so much into his life makes time management a crucial skill to have.
"I do all my homework at school and then play sports and sleep. I'm normally pretty disciplined with my time," Bruchu said.
His coach is proud of him and his development over the years baseball head coach Mike Parker has known Bruchu. Coach Parker has known Thomas since Thomas was in fifth grade and is still his coach today.
"He started as a third baseman catcher and developed into a power hitter. He has become one of our best pitchers on the team," Parker said.