Science teacher Weaver offers dating advice to students
Hang on for a minute...we're trying to find some more stories you might like.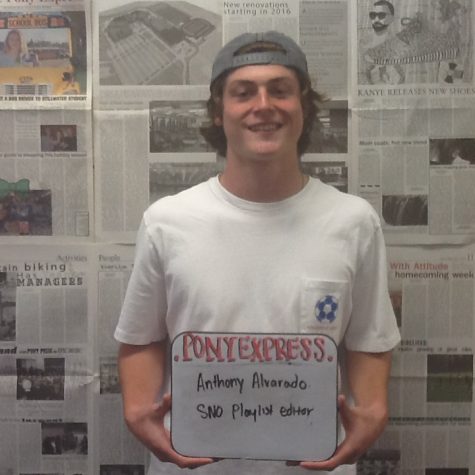 More stories from Anthony Alvarado
As spring quickly approaches, young adults are granted more opportunities now that the weather permits it. Wanting to demonstrate their affection, many students look for a creative way to showcase their soft spots in the new season.
"
It really means a lot to girls when a guy can come up with something creative to do or say, it shows a lot of thought and appreciation."
— Carson Andringa
When the snow melts and the temperature increases,  many ideas arise for students looking to embark on a relationship or continue one. Combining romance and comedy, biology teacher Andrew Weaver, is excited to hysterically influence his pupils in any way to improve their love lives in the spring and year round.
With young love, comes a lot of commitment and showing effort in the relationship. It is important to be creative. Perhaps going somewhere nobody has ever gone before, or doing something clever that nobody has ever thought of in the past. Original thinking like this can prove how much one cares.
Junior Carson Andringa explained, "It really means a lot to girls when a guy can come up with something creative to do or say, it shows a lot of thought and appreciation."
"It's very significant to come up with something unique on dates instead of simple cliches. Goofy, creative ideas show a lot of affection in relationships," Weaver added. "Maybe you bring corn down by the river and attract ten thousand ducks and geese, or maybe you look for Morel Mushrooms when Lilac flowers bloom and check each other for ticks afterwards."
As goofy as this sounds, these humorous and wacky memories are a big part of relationships. Not to say a night in the house watching a movie will hurt a relationship, but finding something wildly productive can go a long way with a significant other.
Weaver asked, "What is your boyfriend or girlfriend going to remember? The last movie you saw together, or the time you flipped your canoe on the St. Croix river? It's all about memorable affection."
These zany, yet thoughtful ideas relate to having a humorous attitude and how essential it can be to relationships. Sharing a good laugh with a significant other creates a sense of understanding and connection, while being beneficial individually. Laughter relieves stress, and boosts the entire aura of the room. Enhancing this positivity will let someone know he or she is on the right track in a young or matured relationship.
"I'm not sure whether Weaver is serious or not in his date ideas, but I agree with a lot of his advice," junior Brice Hafemeyer said. "I think my humorous and extrovert attitude comes in handy to help me break the ice or continue a conversation with someone I know or don't know."
One may find themselves falling into a dull routine with their boyfriend or girlfriend, so it never hurts to try something a dash outside of the box. In appropriate manner, Weaver's helpful advice can be recognized as very meaningful and thoughtful to a date.
"Don't forget that I give these date ideas because students need to recognize that they're at a socially awkward stage in their life, and they need help," Weaver said.