Carmeli seeks exposure to military life
Hang on for a minute...we're trying to find some more stories you might like.
The United States Naval Sea Cadets Corps (USNSCC) is a national non-profit organization offering American teens and pre-teens ages 11 – 17 an opportunity to experience military life with no obligation to enlist in any branch of military service.
The mission of the USNSCC is to help American teens realize personal success and achievement through a nautically based, sea training program.  Through Sea Cadet membership training, members learn basic skills in seamanship and naval applications, while also developing lifelong leadership skills.  Cadets are trained by, and work alongside, active duty and reserve military personnel, and Sea Cadet Officers and senior Cadets.  As such, members learn the value of patriotism, courage, self-reliance, teamwork, and accountability.
There are over 300 Sea Cadet units in the United States, with a unit or units in nearly every state.  In one such unit here in Minnesota, a local  junior Alex Carmeli, is one proud member.
"I joined because it seemed like fun," said Carmeli. "Plus we also learn practical things such as combat engineering, infantry and first aid," he added.
Cadets in Carmeli's unit meet once a month during the school year for combat drills at their local unit throughout the year.  Carmeli learned about a division that opened up in Osceola. Each unit is structured to meet military lines and is headed by a Commanding Officer.
Training is more intense during the summer months and occasionally over winter and spring breaks, but Cadets also have greater developmental opportunities available to them during the summer.
For example, during summer training camps, Cadets train aboard US Navy & Coast Guard ships and at Navy Marine Corps and Coast Guard shore installations across the country.  Cadets also have additional opportunities to train with international Cadets in similar programs in Australia, Bermuda, Great Britain, Hong Kong and the Netherlands.
The training is physically demanding and quite rigorous, according to Carmeli.  "I work out a lot to stay in shape," he said.
Additionally, Carmeli had to successfully complete basic training or 'boot camp' in order to become a member. On top of this, Carmeli balances his schoolwork and a PT job at Leo's Grill & Malt Shop in downtown Stillwater.
"I love doing all of it," Carmeli said. "I have always wanted to join," he added.  Carmeli learned about the program through a friend who had joined and loved it.
While membership in the USNSCC does not obligate teens to subsequently enlist in any branch of the military, not surprisingly, several former cadets end up enlisting in the armed forces after high school graduation, probably because of the same interests and values that drew them into a program like the Sea Cadets in the first place.
As an added bonus, being a member in this prestigious group is highly regarded by selection boards for military academies, ROTC programs, and four year colleges and universities.  Many Cadets receive scholarships wherever they go after high school, and if they enlist, they may also receive credit for their previous service as a Sea Cadet, saving them time and money in the future.
For Carmeli, membership in the USNSCC solidified his interest and desire to pursue a military life, and is currently in the process of enlisting in the United States Marines upon graduation from SAHS.  "It has been just a wonderful experience," said Carmeli, "I'd recommend it to everyone."
People interested in 'sea-king' valuable, real life experience to a military career without committing to enlisting after graduation, consider membership in the USNSCC.  Membership requirements include:
–       be a citizen of the United States,
–       between the ages of 11 – 17,
–       full-time student with at least a 'C' average
–       unmarried,
–       drug & alcohol free,
–       felony & conviction free,
–       parental consent, and
–       be of good moral character
The initial enrollment fee is $250, and there is an annual renewal fee thereafter of approximately $140 (which varies by unit).  There is also a $150 fee for 'boot camp,' and the various summer camps also charge fees.  For more information, go to www.seacadets.org and 'sea' what you have been missing!

About the Writer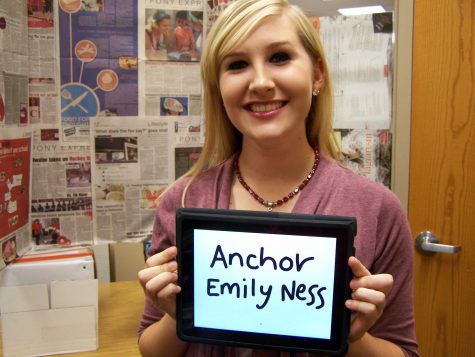 Emily Ness, Anchor
This is Emily Ness' second year participating in The Pony Express Newspaper. She is the Anchor of the Broadcast Team. Emily loves to read, write and snowboard....