Strong start for wrestling team
Stillwater wrestling has started their season out strong with wins against Woodbury, East Ridge and Minnetonka. It is expected to be another great year for the Ponies with a very good possibility of making it to state. There are a lot of new players as well as many older and more experienced players, making it a well rounded team.
This years captains are seniors Peter Hagel, James Huntley, Conner Weiss, and sophomore Will Harter. They have worked very hard to be given this position with many successful matches and years of wrestling.
Wresting is extremely complicated with many rules and restrictions. During each match there are eight different ways to gain points: takedown, escape, reversal, near fall, penalty points and caution points.  They are then interpreted into team points. In a team meet there are eight different ways points are rewarded: pin fall, technical fall, major decision, regular decision, draw or tie and disqualification.
There are 14 different weight classes ranging from 106 to 285. Each class has multiple players in it and for each match one person from the weight class is chosen to go against someone in the same class on the opposing team.
Weight classes can be a big problem for many athletes.  Senior Jackson Dunleap is a student struggling with this problem.
Dunleap said, "This season is off to a challenging start for me. I am 163 pounds and I'm going up against people who weigh 182 pounds. I am doing it because the coaches want me to fill the spot, but in order to do that, I had to wrestle two guys who weighed that much, it was a hard fight but I ended up winning."
The Woodbury meet was  intense due to the fact that they are one of Stillwater's biggest competitors because of their good players and they were defeated by us last year. The Ponies were able to pull through with a score of 36 to 33.
Rich Keller is Stillwater's new coach this year. Junior Jared Christian who has been wrestling for 5 years said, "He is helping out a lot this season."
At the East Ridge meet the Ponies prevailed with another victory 59 to 12. Even with all of these victories Christian said, "There is always something to work on."
"
There are a lot of great wrestlers on our squad, the new ones that were added are Javon Taschuk and Reid Ballantyne they are both dominating in their weight class."
— Jackson Dunleap
This season there are a lot of new guys on the team as well as some older more experienced players. Dunleap said, "There are a lot of great wrestlers on our squad, the new ones that were added are Javon Taschuk and Reid Ballantyne they are both dominating in their weight class."
The Ponies also took on Minnetonka and dominated once again 45 to 17. In this meet pins were by Trey Kruse, Jared Christian, Porter Estenson, Conner Weiss and Jackson Dunleap who had two pins.
There is a large possibility that the Ponies will be going to state this year.
Dunleap said, "As a team I think we have a great team to go to state and perform really well, we have some very good and ranked guys that don't like to give up."
So far this season the Ponies are 3-0 and things are looking good for the rest of the season with a start like this. Stillwater has not won state since 2009, but hopefully that will change this year. There is also a chance for the team to win conference champs, but the Ponies have a very full schedule ahead of them and hopefully with a lot more wins.
About the Writer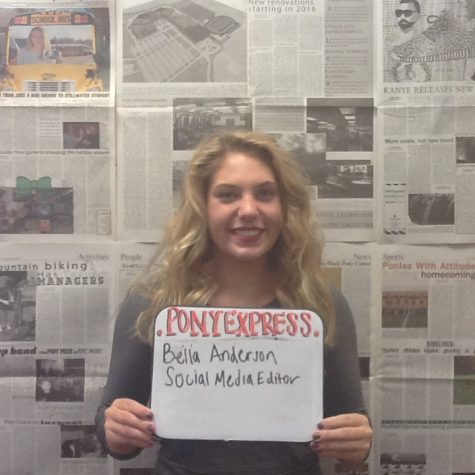 Bella Anderson, Social Media Editor
Bella Anderson is a junior as Stillwater Area High School. She is a frequent traveler, crossfit enthusiast, and enjoys spending time with her friends....