Importance in theater rises above actors onstage
The 39 Steps performance at SJHS
"All human happiness or misery takes the form of action," Greek philosopher Aristotle said in his famous Poetics. The ability to represent the thoughts and feelings of beings other than oneself in nothing but outward actions is a craft that few completely master.
The importance of theater rises above the actor onstage because many lessons can be learned from the study of other people. Drama has long been a strong point for Stillwater Area High School and their fall play, "39 Steps" performed Nov. 17-19.
One of these budding actors is sophomore Ben Valerius. He has been in theater for several years and appeared in "The 39 Steps."
"I like to perform in front of others," Valerius said, "You get to play a lot of different characters."
"
We still need a connection to real life, acting lets us highlight the everyday."
— Norah Larkins
Putting oneself in another person's shoes and performing as them is empathetic. Acting itself is a deeply human craft, though one must divorce themselves from their humanity to be truly omniscient in an activity that many refer to as "people watching." This activity involves the close study of the mannerisms, postures and general attitude of people by watching strangers at bars, cafes or on the street.
"We still need a connection to real life," junior Norah Larkins said,"Acting lets us highlight the everyday."
Spontaneity is one thing that separates acting on stage from acting on film. Film is a magnificent art form in itself but there is little room for "happy accidents," little mistakes that give a feeling of humanity to a story. While a movie played over and over will always be the same, a performance will be different every time.
"It's a completely different feeling being there seeing it live," Larkins said,"you can really tell the work that was put into it and the passion of everyone involved really shows through."
Since every performance is unique, every audience sees a different, personal show. It makes audience members feel special and draws them in. This feeling of "we're all in this together" is added to by the fact that the "theater group" is so close knit.
"It's all a community," Valerius said,"all the audience knows everyone in the show and we know everyone in the audience."
Making acting accessible to students is something SAHS does well. Acting is extremely important for people and the societies they inhabit because it is offers a fresh, outside look on humanity. It offers entertainment and improvisation. Whether the actors in Stillwater plays have the nights of their lives, or the whole performance is a train wreck, the actors know one thing for certain, the show must go on.
About the Writer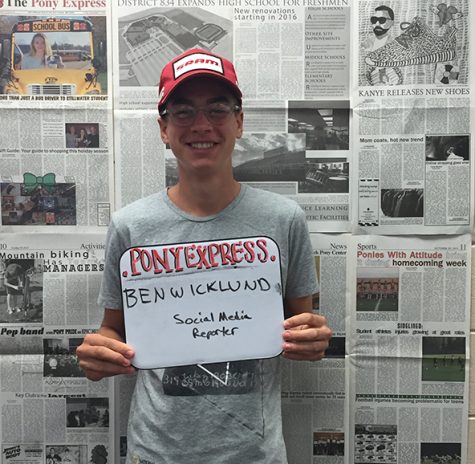 Ben Wicklund, Social Media Reporter
Ben Wicklund is a SAHS junior. He has lived in Marine his whole life, attending Marine elementary.