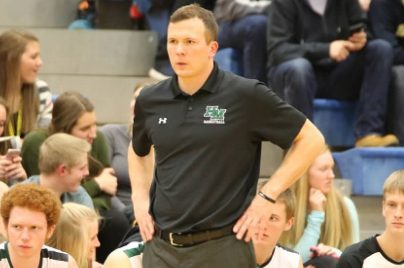 Hannigan leads boys basketball team to fresh start
November 15, 2016
Brady Hannigan is the new boys basketball team head coach and also a new social studies teacher. His past experience will do great things for the program. The team had a tough 2015-2016 season, going 12-13 in regular season.
Hannigan received the chance when former coach Randy Jordan decided to retire. Hannigan played basketball at the high school and college level, as well as coached varsity at Menomonie and Hill Murray where he taught social studies.
The change has not been tough on the team. They actually have a very optimistic look at getting a chance to have a new coach.
Junior Manny Jingco said, "It'll be a good change to have a different style of play. He also has lots of experience and knowledge of the game." Junior Evan Parker added, "A change will help us see the game in a different way which will give us an advantage on other teams we play."
Accepting the coach was not an issue for the team. They are very excited to have someone with lots of past experience that can coach them.
"We are very welcoming of him and are interested in learning a lot from him," Parker said. Jingco added, "We all are accepting but we are still getting used to his way of coaching and I hope this will be a good year."
Hannigan's coaching techniques are proven to be efficient, having a 21-8 season at Hill Murray in the 2014-2015 season. Adding his techniques to what the team already knows will give the team a broader view on the sport.
"One thing is getting to know the kids strengths and weaknesses. Also what they can do physically, and how to find out what motivates each player mentally," Hannigan said.
The players have been fine with the transition and so has Hannigan. He said the support he has been given is really helpful in the transition.
"It hasn't been that hard, I've had a lot of support from administration, Mr. Jordan and past coaches that have helped me prepare for the season to start," Hannigan said.
Hannigan believes bringing the team together is a big part of success. Confidence is huge to him in the aspect of basketball.
"
The biggest thing we are going to have to do is get them to play with confidence."
— Brady Hannigan
"The biggest thing we are going to have to do is get them to play with confidence. Unlike any other sport, basketball is out of the coaches hands when it's game time. Having them get to know each other and having confidence in each other is very important," Hannigan said.
Hannigan is confident coming into the program, but like everyone, he is nervous about a few things.
"Just like every year there are nerves and surprises, both good and bad. And there are always uncertainties with a new team or someone you have been coaching for 30 years," Hannigan said.
Hannigan will help the team by giving his knowledge from his many years of experience in the sport. The team is excited to have him and learn from him. It will be a fresh, exciting season for the team, and Hannigan will help guide them along the way.