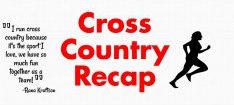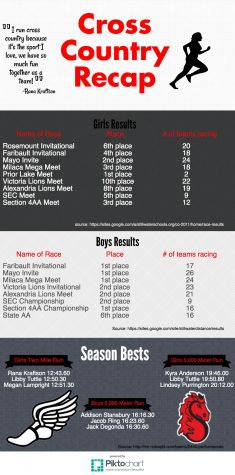 The boys and girls cross country teams both finished up their 2016 seasons as the boys team competed in the state meet on Nov. 5,  and freshman Libby Tuttle and senior Kyra Anderson competed in the state meet for the girls team.
Both teams have had successful seasons despite the graduating of many leaders of the team this past spring. Senior captains Claire Patterson, Megan Felsch, and Danielle Snow led the girls team to many successful races throughout the season.
The girls team participated in the Mayo Invite back in September, which was a successful meet for them as varsity placed second and junior varsity placed first.
Freshman Libby Tuttle said, "As a team, we were strongest on hilly courses this season. One of our best races as a team was the Mayo Invitational, which is one of our hilliest races that we race at."
The team was able to show off their hard work and put their strengths to work to find success at the Mayo Invite.
The boys team has many emerging leaders.  One of these leaders is junior Jacob Ring. One successful race for not just Ring, but the whole team was the Milaca Mega Meet where the team had an average time of 16:49.
Ring said, "My favorite part of this season was winning the Milaca Mega Meet. It is one of the biggest high school races in the country."
The boys team raced in the State meet, and two individuals raced for the girls team. Tuttle and Anderson were the individuals who represented the girls team in the State meet. The boys team took 6th place with an average time of 16:53 in the meet. Tuttle placed 156 and Anderson placed 165 out of 175 girls. Both teams raced in the class AA division.
Teammates always play an important role in any sports season.
Tuttle said, "It was very fun to represent my team at state. It made it even better to have my teammate, Kyra Anderson, run at state with me."  
Both the girls and boys teams had successful seasons and had fun along the way, creating memories with their teammates.
Junior Rana Kraftson said, "I love watching my teammates run and seeing their hard work pay off. We are all happy together or disappointed together, but it's so awesome to know we're all in it as one."