Maxwell makes impact through community service
Brandon Maxwell, English and AVID (Advancement Via Individual Determination) teacher, is the perfect example of a teacher who goes above and beyond to make an impact on students and the world. Not only is the tremendous at connecting with students, but he is involved in a great amount of community and world service.
Maxwell was also an English and AVID teacher at Oakland Junior High and has just transitioned to the high school this year. He now teaches 10th grade AVID, and 11th and 12th grade English. When the opportunity presented itself to work with a whole new group of kids, Maxwell did not miss the chance to challenge himself.
Maxwell has had a smooth transition so far, but getting a new job does not come without difficulties. When choosing to transition to the high school, there were many aspects Maxwell had to consider.
Maxwell explained, "There were a lot of factors to play into it [moving to the highschool] and it was really difficult to leave my colleagues and students because they were like an extended family to me at Oakland. The high school gave me an opportunity to continue working with the AVID program, which is changing after the transition."
When maxwell transferred to the high school he did see some familiar faces. Senior Mason Bartosh has been close with Maxwell since he was in his eighth-grade honors English class and they are still connected.
"
I would like to have opportunities to connect students with experiential learning through community service."
— Brandon Maxwell
Bartosh said, "I met Mr. Maxwell in 8th grade English. I had him in 9th grade as well. He is very funny and outgoing as well as strongly willing to help you learn, so it was very east to become friends with him."
Bartosh is also close with Maxwell because he was one of the students to travel with Maxwell to Africa. Maxwell has helped build a preschool, Upendo Primary School, for children in the village of Madala. He lived in Africa from 2007-2011 and each summer they return to where they lived to continue helping out with the preschool. Maxwell puts together fundraising to help provide the children in Tanzania books, school lunch programs, money for the teachers, and medical camps for families.
Bartosh explained, "My experience in Africa was life changing. You really see the true beauty in the simplicity of happiness. You also really come to appreciate all you have, and you hope to support others. I look at everything a lot differently now because of my time there. I am a lot more grateful for what I have."
Maxwell was also involved in two groups at the Junior High. He started Hope group, a student-run organization, and helped lead the National Junior Honors Society.
Maxwell explained, "I enjoyed doing them [NJHS and Hope Group]. It was a highlight every day. Hope group was student created and student lead and NHS and we got to see students do a lot of exciting things including cleaning the st Croix river and other fun projects like planting thousands of trees."
NJHS is for students who excel academically and have a 3.75 GPA or higher. Maxwell would organize community projects for this group of students.
Bartosh added, "NJHS with Mr. Maxwell was an awesome experience, he really tried to help get kids involved in the community and outside of the community. I remember making books for young kids in Tanzania Africa which was a very cool project."
Junior Charlie Richman had Maxwell as a teacher when he was a freshman. He thinks of Maxwell as more of a friend than as a teacher, but still took away many important lessons from his class.
Richman explained, "I really like that he's at the high school because there are more people for him to positively effect.He is a great teacher because cares for his students so much."
Although Maxwell is not involved with these groups during his first year at the high school, he is coming up with service projects to do with his avid group. They are starting to come up with a service project to help out homeless people.
Maxwell added, "I would like to have opportunities to connect students with experiential learning through community service."
About the Writer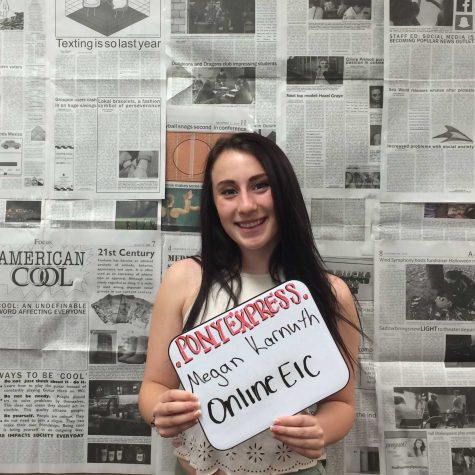 Megan Karnuth, Online Editor-In-Chief
Senior Megan Karnuth is an Online Editor-in-Chief. She enjoys playing soccer, outdoor activities, going to concerts, hanging out with friends, and volunteering...