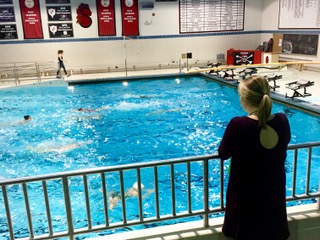 Ogaard recovers from multiple concussions
How would it feel if all of the sudden someone could not do the thing they love? After three concussions, junior Sophie Ogaard has been faced with the difficult decision to continue what she loves to do even if it hurts her or to hang up her suit. Ogaard's injuries have made it difficult for her to maintain a regular life. She is unable to spend her time reading or writing due to the headaches and pain it causes.
Concussions can occur when the brain is violently shaken or struck causing the brain to slide around the inner walls of the skull. There are many things that can cause concussions, such as playing sports that involves contact, car crashes, or in Ogaard's case, synchronized swimming and attending a football game. It is important to take time to heal from the concussion and to get plenty of rest. A full recovery is usual, but it is a lot easier to become concussed again after having one.
Ogaard's injuries have affected many aspects of her life, including her social life. She has not been able to do many activities and spend lots of time with her friends due to the many migraines she has. Having a concussion has been compared to a slow computer, since it does not run very fast and is harder to process data. Unlike a slow computer, a brain will heal and get faster over time.
Junior and friend of Ogaard, Kayla Thalhuber has been with her throughout all of the concussions. Thalhuber said, "Not being able to do certain things and participate in certain activities." Ogaard has had many complications doing simple daily tasks.
Due to the many migraines Ogaard has came across, it is difficult for her to communicate with the people around Ogaard.  A concussion is a serious injury that cannot be cured by anything but time. It is important to take time off of school and other responsibilities to heal.
Concussions are more likely to recur after you have had one, since the brain is already trying to heal in other places. Ogaard's concussions all happened within a span of 11 months, two of them from synchronized swimming and the third occurred when someone threw something at a football game. The concussion itself has had Ogaard to stop doing what she loves for now.
There has been many consequences she has had to deal with because of the injuries. She is not able to swim and finds it difficult to focus in class due to the pain from her brain.
Ogaard said,"I can't get in the water like whatsoever until it has healed." This makes for a difficult decision for her passion or to stop so she does not get injured again.
The bass has been big part of Ogaard's life and she has been playing it since fifth grade. Music is another thing that may trigger the symptoms of a concussion. The loudness and having to read the notes can easily cause more headaches and nausea.
"
It's like impossible to read the music…it's still hard now and it has been over a month."
— Sophie Ogaard
Ogaard said in reference to her last concussion," It's like impossible to read the music… it's still hard now and it has been over a month." Her brain has difficulties reading and focusing on the music, but once she practices for a while it does get easier.
Her concussions might have forced her to take a halt on doing what she loves most, but Ogaard doesn't let that stop her from achieving her passions. Until she recovers fully, she will be troubled with migraines and difficulties doing normal day to day tasks. She is still a part of the synchronized swimming team, even though she is unable to swim, but eventually she will be back in the pool.