Soundcloud takes over spotify
Spotify and Soundcloud are the two biggest online music streaming sites of this decade. Both Spotify and Soundcloud are fantastic resources for streaming the latest and greatest music, but some people argue that Spotify is the better of the two.
While Soundcloud allows people to listen to many up and coming artists, podcasts and even upload files, the level of quality in relation to Spotify just is not there. Spotify offers many amenities to its listeners, including but not limited to, updates to when followed artists will be coming in concert, the ability to create and listen to private playlists and a wide range of genres and artists.
The only issue people bring up about Spotify is the fact that most of their amenities are offered only to people with Spotify Premium accounts, an optional service that costs $9.99 per month or $4.99 per month for students.
Senior Aine King said she does not have Spotify premium because, "it is too expensive for a high school student." When paying nearly $10 a month for premium many ask themselves if it is worth the unlimited song skips.
Unlimited skips are not the only thing Spotify boasts as a part of their premium membership, they also offer an ad free music experience and the ability to play music anywhere, including areas where internet and wifi are not available by allowing listeners to download songs and playlists and play them wherever and whenever they want.
While Spotify offers many great amenities, Soundcloud offers its listeners some good qualities as well. Soundcloud has a much wider variety of podcasts along with new and lesser known music. Anyone at any time can upload content onto Soundcloud for people to listen to. It is also available on Soundcloud to create and share playlists, much like on Spotify.
"
I usually shuffle pre-made Spotify playlists."
— Jack Lange
Junior Jack Lange shared when streaming music on the web, "I usually shuffle pre-made Spotify playlists." People can make playlists, on both sites, and share them with others, it can be very beneficial to use, because it's an easy way to find new artists or songs to listen to.
Many people love both Spotify and Soundcloud but Spotify is usually favored because of the many benefits they offer, and many people would give this site a glowing recommendation for their friends and family.
Sophomore Ben Valerius said, "You don't have to buy music off of iTunes anymore." There is no need to waste money buying music off of iTunes any more, not when anyone can just stream it from sites like these.
With the competition between Spotify and Soundcloud being as close as it is, it's hard not to pick a side, one could say that because Soundcloud offers such a high selection of new music and podcasts and the fact that it's free of charge, Spotify really is the better option because of it is higher quality in streaming and the more options it offers for streaming capability.
About the Writer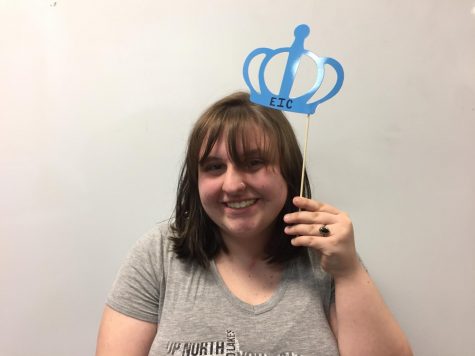 Linnea Phillips, Print Editor-In-Chief
Linnea Phillips is a senior, and a Print Editor-in-Chief. She enjoys writing and spending time with friends and family and partaking in many clubs such...