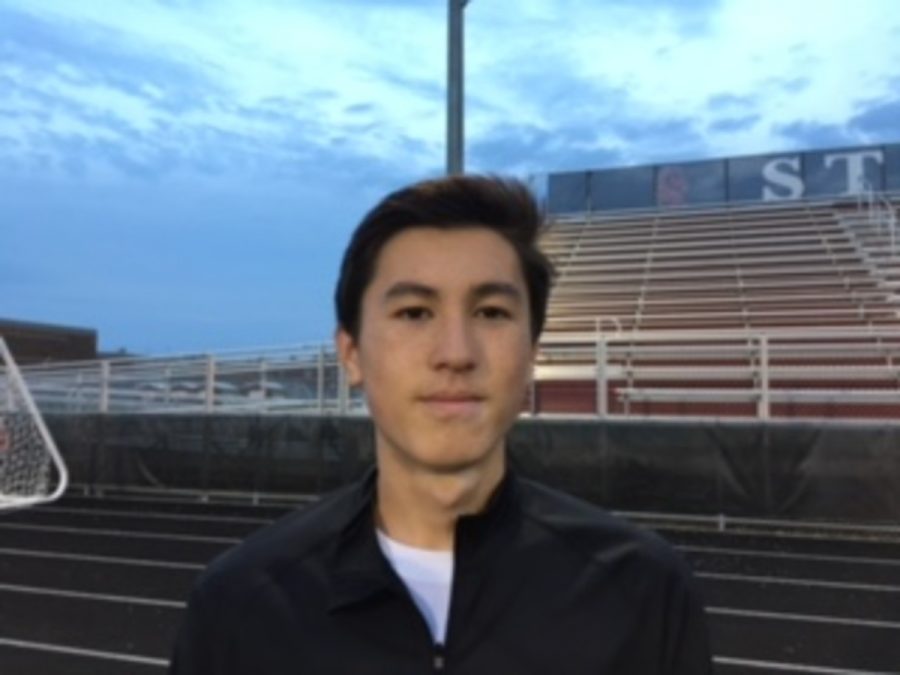 Kohei Adams leads boys soccer team to State
Senior Kohei Adams is the lead goal scorer on the boys varsity soccer team. As of September 26, he has scored 11 goals and produced seven assists helping his team achieve all victories and zero losses.
Adams moved to Stillwater from Woodbury this year. He scored two goals as a sophomore and four as a junior on the Woodbury varsity team and had a total of four assists for both years. He also has played on the St. Croix Academy club team while not in high school season.
Being top scorer comes with experience in soccer. Although he has natural skill, Adams has had to work for this top spot on the team for many years and also had to prove himself for a spot on the Stillwater team this year.
"I have played on a premier team for St. Croix academy for about five years. Premier is a very high level of play, which I believe has really helped me get to the skill level I am at now. It was really intimidating coming to Stillwater from Woodbury, but I just worked hard to earn my spot." Adams said.
Kohei's success could come from the fact that his team likes him off the field too. His teammates had nothing but nice things to say about him.
"He is very nice. He says nice things to me and everyone else," junior Jorge Malone said. "He likes to have fun and joke a lot. He is a really cool guy." Sophomore Logan Huber added.
Adams and his teammates have a strong vision to how to succeed on the field.
"He sees the field differently. He plays fast and knows where he is going with the ball because he is smart, " Malone said. "He moves the ball around quick, because he sees the field really well. He knows when to dribble and keep the ball, or when to pass it and move." Huber added.
"
He sees the field differently. He plays fast and knows where he is going with the ball because he is smart."
— Jorge Malone
"I think it is that I see the field really well and I know when to take someone on or pass it to go to goal," Adams added.
Adams is not yet the top scorer in state, but he seems to be making his way there. There are many more games to come that will help him, but also his soccer team being number one in state might help him too. His teammates believe in him to get to the top.
"If he keeps working hard everyday and playing his game, he should be able to become the top scorer in state." Huber said.
Malone added, "Yes he will become top scorer because I believe he is the top forward in the state and he knows how to put the ball in the goal."
Scoring all these goals could indicate he is not a team player, but that is not the situation. Adams' teammates believe he really is a team player and he just really knows how to score.
"He is a team player because he likes to move the ball around and not just keep it to himself. He works hard to fight for any ball he can get," said Malone. "He knows how to put the ball in the back of the net. It is that simple." Huber added.
Adams is having a great season but gives the credit to the team as a whole, because without them he wouldn't be at this top scoring position. "Soccer is a team sport," Adams commented."I would not have these goals without a strong defense, great midfielders, and other good forwards that give me the opportunity to score."