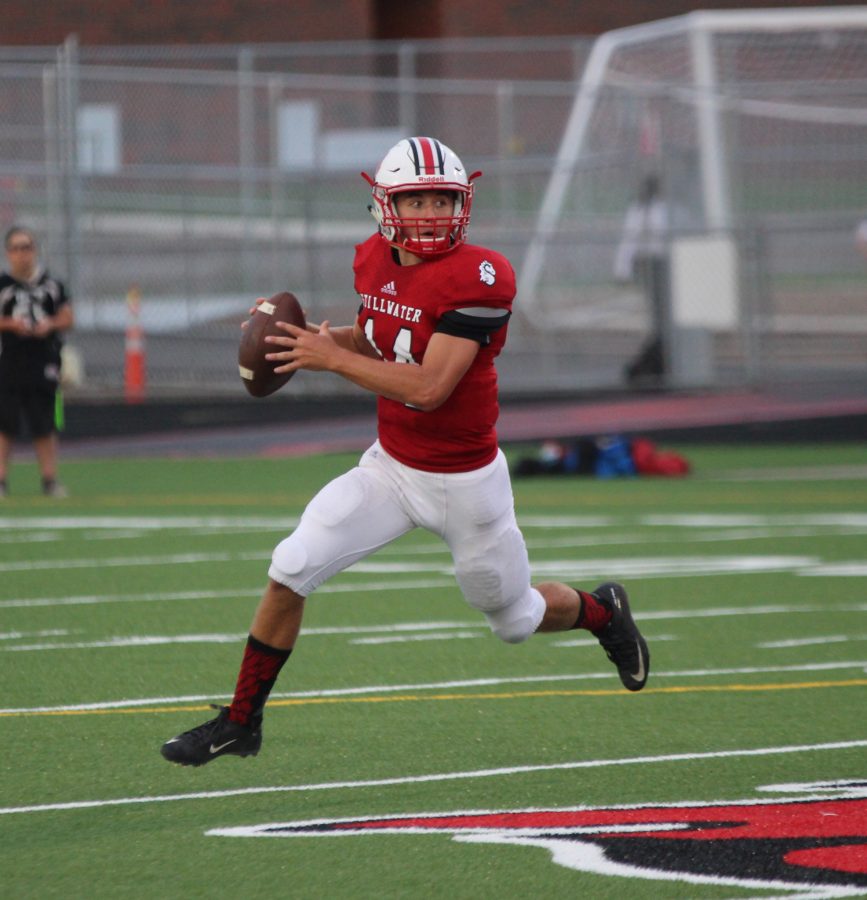 Grayson Hosch, prime leader for football team
There's more to football games than scoring touchdowns and sacking the quarterback. A player must prepare, eat right, have a mindset of winning and must be ready to lead their teammates if they want to be successful come Friday night.
Senior quarterback Grayson Hosch knows what it means to be a leader on the team and to be physically and mentally prepared for Friday nights. With the hype and pressure that arrives with game day there's no doubt Hosch is going to make sure he's in the state-of-mind necessary to be successful on the field.
Hosch puts a lot of pressure on himself to be a role model for the team, as a starting quarterback he needs to be a leader. When things aren't going the Pony way, Hosch is the guy others can look to to get the team going in the right direction.
"
Grayson is a big role model to me and many other players on the team, when we are off our game he is the guy who gets us back on track."
— Mark Roettger
Junior quarterback Mark Roettger said, "Grayson is a big role model to me and many other players on the team. When we are off our game he is the guy who gets us back on track," Junior Ryan Berg added, "Grayson is a leader on and off the field, in school he has good grades and on the field he's a solid QB."
A good football player knows that you cannot just show up on Friday night and expect to win, you must be prepared for the game. "Failure to prepare is preparing to fail", as many players have been told throughout their career.
Hosch has got his game day routine down to a science. Hosch said, "After school I go home, grab my stuff, go to my friend Aidan's house, eat a sandwich from Brines, get to the high school, listen to music and get focused on the game." Hosch said. "I'm huge on superstitions. I always got to put my right sock on then my left, just little things like that I always do on game day to get focused." Many athletes believe that superstitions have a direct impact on the outcome of a game. On game day Grayson will get dressed the same way every time because he is a believer in superstitions.
After the Ponies come out with a big win, Grayson likes to have a little fun. Hosch likes to be with his friends and celebrate their accomplishments on the field. Hosch said, "After a win I hangout in the showers for awhile, then go to Applebee's and spend the night with some friends and just have fun."
It's obvious as to why coaches love Hosch as a player and also as a person away from the field. He has the skill and the heart that every coach yearns to see a player possess which is fitting for the fact that he is the starting quarterback for the Ponies.