Howlett returns to fulfill his duties
Assistant Principal Bill Howlett returned this year to fulfill his duties after a year off due to a grueling battle with cancer. During the 2014-2015 school year, the White Pony Center saw a change when he had to step down to undergo treatment.
In August of 2014, Howlett was diagnosed with stage 4 prostate cancer. By the time they caught it, the cancer had traveled up his back and had cracked a vertebrae which was causing major pain in his back. He was told that it can't be "cured" unless it was caught early.
Howlett was missed by faculty and students alike. Most people know him as a man who loves be in school with his "family". He joked that he has 2200 kids at school instead of just the two he has at home.
"It feels so awesome [to be back]. I have missed the kids and the staff. Even the goofy, crude, misbehavior, and scheduling junk that comes along with the job. I even missed all of that if you can believe it or not. It's kind of one of those count your blessing moments because it is a blessing to be here. It is so cool. I missed it," Howlett said.
Before school started, Superintendent Denise Pontrelli, hosted a welcome back meeting for all district faculty to attend. At the meeting, Howlett was welcomed back by a colleague in front of everyone.
"Just that alone was enough to get me on the verge of tears and then the whole room stood up and I was so humbled that the district staff helped to welcome me back," Howlett said.
Howlett explained that his cancer will never go away, no matter what treatment he goes through.
"The hope is that this will last three years and then at that point, I will most likely go back to chemotherapy, unless they find out something really cool," Howlett said.
Howlett said he didn't know what or who to blame. He wanted to find out why he got this and how it happened. He is hopeful that other people in his family will be safe from this horrible disease after hearing his story and learning to watch for the signs.
"I just recently found out that I tested positive for the gene mutation called BRCA2. It is a breast cancer genetic mutation. Everyone wants to know, why did I get this cancer? It's harder than heck to blame God. I found out that I have a genetic mutation. So, essentially I got it from my dad. But I'm not going to blame him because he didn't even know he had it. But now my two boys and my sisters can find out if they have it and if they do, they can be screened early and not have to catch it when it's stage four and it's life or death. Hopefully they will be able to catch it sooner," Howlett said.
Everyone is inspired by his determination and will to do everything in his power to stop the cancer in its tracks.
Senior Ali Reardon said, "His story is inspiring and I hope it helps others realize that life shouldn't be taken for granted. It can flash before your eyes."
As for the future, Howlett and his family are hopeful that he has lots of time left. Everyone around him knows that he is fully capable of getting through this. His spirits are amazingly high and he is encouraged by everyone around him.
Howlett said, "We are holding it off. It's not a curable cancer. It is stage four. It is bad news. I am on a new medication along with about 20 other things that have tons of side effects that I just have to suffer through to make it through the day. For right now, that is holding off the cancer. There is lots of great hope but I just have to wait it out."
About the Writer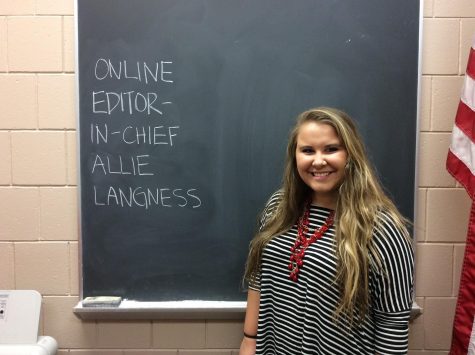 Allie Langness, Online Editor-in-Chief
Allie is a senior at Stillwater. She loves to hangout with her friends. If she isn't with her friends or family, you can usually find her shopping. She...