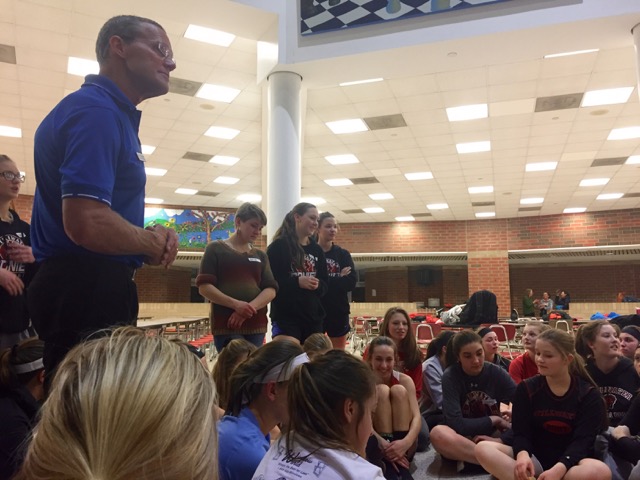 Megan McGuire
Laughter, frustration and a buzz of activity filled the school cafeteria as Teamwork Motivation Trainer Rick Raisser led the girls lacrosse team through multiple mind challenging activities, creating bonds among the team and getting their mindset ready for the season.
For two and a half hours on Feb. 18, Rassier came to the high school cafeteria to meet with the girls after a pre-season meeting. He had several activities planned out to hopefully motivate the girls to "take it to the next level" and create positive relationships among the team before the season started.
"After reviewing the information provided by Rick I felt that his training program would be a perfect fit for our team and that his training would help our team improve. It was apparent that Rick's values were consistent with the values that are important to our team including the importance of individual team members taking the responsibility to work as hard as they can to strengthen our team," lacrosse coach Rick Reidt said.
Rassier works with more than 200 high school and college teams, working with both the Minnesota Gopher Basketball Team and the Women's Gymnastics team. He also works with student leadership groups, student organizations, teachers through staff development and corporate groups.
"I want to make an impact. I don't know anyone who loves doing what they do more than me. I feel incredibly blessed to have created such a unique format for challenging people to take their lives to the next level," Rassier said.
Rassier worked with the girls lacrosse team before the season started, leading them through teamwork motivation training, in hopes to help the team improve and challenge them while creating a sense of friendship, creating bonds that will last the whole season.
"Rick is a skilled, experienced and motivational coach/teacher who cares about the student athletes that he trains. I think Rick's training has helped our team function at a high level during the critical self-directed captains' practice phase of the school year. It has been my observation that our team starts the season with a great team attitude and enthusiasm that in a large part comes from the training provided by Rick," Reidt said.
Rassier has taught over 150 different activities to challenge people in a variety of areas including team building, confidence, goal setting, dealing with frustration, setbacks/adversity, focus, communication, work ethic and intensity and making good life choices.
"I come up with ideas for challenges just strolling through the sports or toy isles in a store. My wheels are always turning, even in the middle of the night I wake up with new ideas on my mind," Rassier said.
Alongside working with athletes and other organizations, Rassier spends time freestyle kayaking. However, on Aug. 29 at Wausau Whitewater park in Wisconsin, Rassier had a cardiac arrest and went under extensive CPR, being rushed to the hospital. Four days later Rassier was back on the water, not having any negative effects to his body from the cardiac arrest. He was motivated and determined to get back to doing what he loves and working with athletes again.
"When I heard what Rick went through and seeing him healthy and fit as ever working with our team, it was unbelievable that something so traumatic happened to him and he left the hospital with not even a scar. His eagerness and enthusiasm with the team, leading us through different activities, was really fun. He won't let anything stop him from what he does," senior Sam Houle said.
The girls lacrosse team was led through activities like performing a skit with a jump rope and putting together scrabble pieces using only words relating to lacrosse and teamwork. They went through several mind challenging activities and bonded together as a team.
"Being one of the older girls on the team I got to meet and connect with some of the younger girls new to the team this year. I'm very excited about what this season has in store," senior Sara Stickler said.
Rassier's passion for teaching and coaching athletes is something he will pursue for many years to come. His life revolves around activity and fitness. He strongly believes in teamwork and fully taking advantage of life.
"I have always lived the fitness lifestyle and feel like I'm living my own message to others. There is nothing better than taking your life to another level and living," Rassier said.