The Life of Pablo new album debuts
Hang on for a minute...we're trying to find some more stories you might like.
The Life of Pablo, Kanye West's seventh studio album, was released Feb. 14. The album was exclusively released to Tidal, which is a music streaming service. The album consists of 19 tracks and features artists such as Kendrick Lamar, Kid Cudi, Rihanna and The Weeknd.
Rapper Kanye West officially released is seventh album, The Life of Pablo, exclusively to Tidal. The album pulled in good reviews from professional critics, but the listeners had mixed emotions. According to www.metacritic.com, the critics gave the review a 76 out of 100, and the people gave it a 7.9 out of 10. Looking at the ratings, it looks pretty good. But, if you don't like auto-tune, suggestive language and sentences that make no sense, this album is not for you.
West put the blame on the delayed release of the album on Chance the Rapper. Chance is featured in the track "Ultralight Beams". West was originally not going to include the track "Waves", but Chance really wanted the track on the album.
"I fought everyone to keep Waves on the album. I spent all night finishing it. The world is better because of it," Chance the Rapper said according to www.billboard.com.
West decided to release The Life of Pablo exclusively on Tidal rather than Spotify, Amazon, Apple Music, iTunes or other music services.  The process behind the album was very long. With multiple title changes, and even revisions after the release, the album came out a week after. The exclusive release of the album to Tidal is an interesting move by West.
On Feb. 15, West tweeted "My album will never never never be on Apple. And it will never be for sale… You can only get it on Tidal."
When Kanye announced that his album would be released on Tidal only, Tidal rose to number one on the App Store.
"
It was a great publicity stunt by Kanye."
— Patrick Sullivan
Junior Nick Anderson is a fan of the album and Kanye West. "I don't think it was the best idea for the people to release the album on Tidal," Anderson said. "But it did help Tidal, which Kanye co-owns," Anderson added.
After multiple changes to the name of the album, West decided to choose The Life of Pablo. Other names included So Help Me God, SWISH and Waves. Nobody knows for sure why West decided to change the name, but there are a couple theories. Everyone knows West only accepts perfection, and maybe the other titles did not meet his standards. Another theory is that it was to create publicity for his upcoming album. In the end, changing the name was a great way to get people talking about West and gain publicity for the album.
"It was a great publicity stunt by Kanye," junior Patrick Sullivan, who dislikes T.L.O.P, said. "It was just a way to gain popularity for the album before it was released. He knows he needs the publicity because the album is so bad."
West's album release tactics are not the only way he's been gaining publicity; he has a shoe deal with Adidas. His "Yeezy" shoes are nearly impossible to get from the Adidas store, for they are sold out in minutes. With West being an Adidas supporter, the track "Facts" takes a shot at Nike. With lyrics like "Yeezy, Yeezy, Yeezy just jumped over Jumpman" symbolizing that his shoes (Yeezys) are better than Nike's Jordans (Jumpman). And "Nike, Nike treat employees just like slaves", which acknowledges Nike's previous sweatshop scandal.
"I think it's another part of Kanye being Kanye," said Sullivan. "He's always thinking that whatever he does is better than what somebody else is doing. In the end, everybody knows Nike's shoes will always be better than Yeezys."
West has released three clothing lines. In late February he released "YEEZY season 3", his third clothing line which like all the others, sold out within hours. His lines have contained things like $600 boots, a  $3,500 jacket and tattered sweatshirts worth $7000. His fan base is strong considering they do not mind the prices.
"I like that he combined his old music with a newer hip hop/trap vibe," said Anderson. "I've been a fan of him for a while and I think I always will be."

About the Writer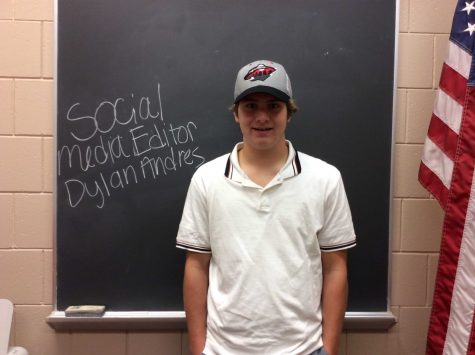 Dylan Andres, Social Media Editor
Dylan is a junior at Stillwater High School. He plays hockey for the high school. His role is a Social Media Editor. He enjoys golfing and going to Minnesota Wild hockey games.