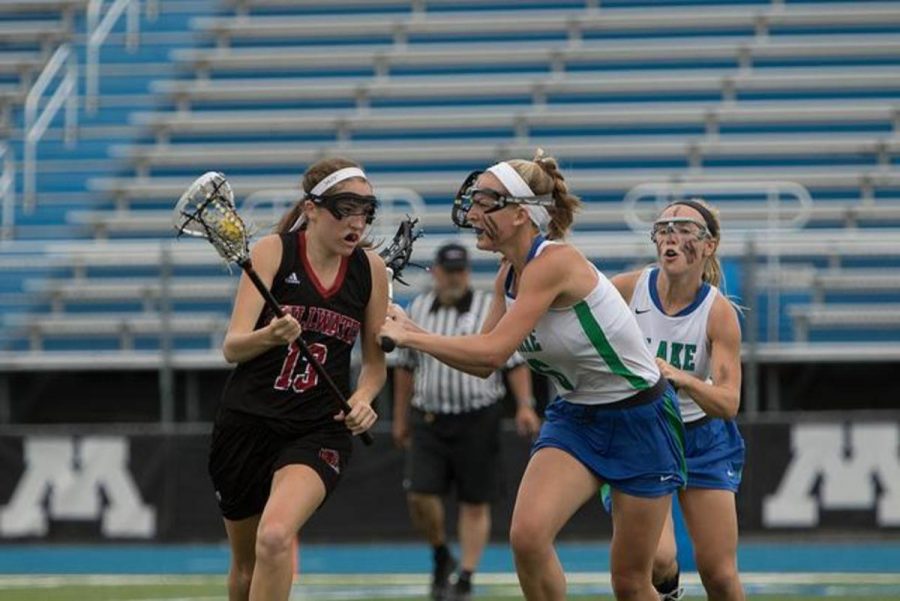 Photo Courtesy Mark Stickler
Many lacrosse players across America dream of getting an opportunity to be asked by a college to play for them, but for only a few, this becomes a reality.
This past November senior Carly Fedorowski  has accepted to play D2 lacrosse for Lindenwood University this coming fall. She approached the university this past September when she was touring colleges. Lindenwood caught her eye not just for the lacrosse, program but the academics as well.
In late November, Fedorowski accepted to attend Lindenwood University. She will be playing D2 lacrosse for the university when the girls lacrosse team's season starts up there.
"I'm very excited to be a part of their team and call it my home," senior Carly Fedorowski said.
Lindenwood University seemed to be the best out of all the colleges and universities that approached her. Fedorowski is currently undecided with picking a major.
"I liked the size of the college, the campus was very nice, and I seemed to fit right into the team," Fedorowski said.
Fedorowski has shown herself to be a very hard worker on and off the field and most people would agree she definitely deserves to play at the college level.
"Carly deserves to play lacrosse at a college level. She works harder than majority of players and it has clearly paid off. She had refined her skills and put in the hours she needed to," junior Lucia Bischoff said.
Lindenwood University was not the only college that she was in contact with. She was popular within the lacrosse community and it seemed as though the colleges were fighting for her. A lot of colleges and universities approached her with scholarships over the past few months.
"Many colleges had approached me. I don't know an exact number, a lot of small schools," Fedorowski said. "I was surprised by some of them after I searched the school online, others didn't catch my attention."
Many of her teammates on the girls lacrosse team agree that Fedorowski is not only capable of playing at the college level, but that she is on par with her future teammates at Lindenwood University and competition at other universities.
"Carly is definitely ready to play lacrosse at the college level. I have seen some college players play and I have gotten to play with them, and from that experience I know that Carly is already better than most of them," senior Sam Houle said. "She works hard every day at practice and in the off season she is always putting in extra time to better herself."
It seems as though her teammates also see something beyond her skills and hard work for lacrosse. They might be seeing her love and passion for the sport, and that is why they fully support her.
"I am beyond excited for her to play lacrosse at the college level. I cannot wait to watch her become an even better player than she already is. I cannot wait to see what the future holds for Carly," Houle said. "Plus she has the heart and love for the game that most players don't, which gives her the extra advantage."