Director says 'Anything Goes' when it comes to live music
In November of 1934, Anything Goes made its Broadway debut. With dazzling jazzy numbers and a stellar orchestra, it won over audiences and was revived on Broadway twice, winning best revival of a musical both times. Now this classic musical is being performed at Stillwater Area High School. Directed by Grif Sadow the show will feature the well-known tap numbers and a live stellar orchestra.
Stillwater Area High School has not used a pit orchestra in their musicals for a long time, instead, they used pre-recorded tracks the singers had to follow along with. With a new theater director, there have been some changes to the drama department, but the biggest change is adding a pit orchestra for the musical, completely composed of Stillwater students. The orchestra is being conducted by Zach Sawyer and is composed of about 25 students. There will be six performances over the course of two weekends beginning on March 4.
Pit orchestras are always used in professional shows and will certainly add to the excitement and impressive show that Stillwater is known to produce. Along with tapping, having an orchestra is something new for the Stillwater theater and is sure to wow the community in a new way.
"I was thrilled when Mr. Sadow told me he wanted a pit orchestra for the musical.  Having live music for a show adds to the excitement of the experience for everyone involved," Sawyer said.
Not only are the students and faculty excited for this new tradition to take wing, but they are also excited about the possibility of opening up the theater department to more students.
"I think the pit will generate higher student interest and involvement with the theater program because it adds a new dimension of intrigue," senior Sam Luloff said.
Students from sophomores to seniors were invited to audition and participate in the musical, however involving themselves in a musical as an actor means a lot of time commitment. The pit orchestra requires a good level of dedication as well but is not as constraining for students with less time after school.
"In junior high, I auditioned for almost every play and musical that I could and now, I don't have space in my after-school schedule to be in Anything Goes so I did the next best thing that was less time consuming. I auditioned to be in the pit as a new experience and also because I wanted to help out the theater department," sophomore Lars Johnson said.
While adding live music can create more work and details that must be paid attention to, in the end, it will be a great help for students. With live music, like most theaters have, the musicians can follow the actors and they work together to create and set suitable tempos for the songs.
"Having a pit orchestra is, in my opinion, a great thing, giving the singers a real orchestra that will move as they do, speed up as they do and slow down as they do, instead of some recorded track that provides no change," Johnson said.
Being in a pit orchestra for students is very different from being in the school orchestra. They have a large amount of music they must learn in a short amount of time, and be able to follow the singers tempo.
"There are 30 tunes the orchestra plays in the show, and we have a total of 15 rehearsals to put it together before opening night.  It requires a serious level of commitment and practicing from all members of the orchestra.  As a teacher, it has been inspiring to see the orchestra rise to the challenge," Sawyer stated.
Professional theaters and many high school theaters are known to have pit orchestras, now that Stillwater is adding an orchestra to the musicals it will add a new level of interest for the community and students while also adding new experiences for all involved.
"I think Stillwater high school theater will be elevated significantly with the pit orchestra now. It adds sophistication to have a live orchestra playing," senior Sara Swartz.
The number of students within the pit orchestra is half of what the students are used to in school. With a smaller size in number comes strengths and challenges for the players.
"I would say that our biggest strength is our small size. Everyone has their own voice and no one can really be ignored or left out, and just as much I feel that no one really wants to. And I would also say that out biggest challenge is our small size. There is always the fear of since we're so small, any mistakes that might be made are very apparent and even though the sections are all made up of strong players, the largest section is trumpets at a whopping number of three," said Johnson.
With a fun, different style of music the actors and musicians can enjoy and a brand new experience the pit orchestra is a fabulous addition to the theater department. The students have all risen to the challenge and with performances nearing are excited to show the community what they have created.
"I have very enjoyed being in pit orchestra and I plan on auditioning for others, hopefully. It's been a great experience and a nice change from the classical music that we play in the normal orchestra, even though classical is still fun. I also highly recommend it to anyone in the future," Johnson said.
About the Writer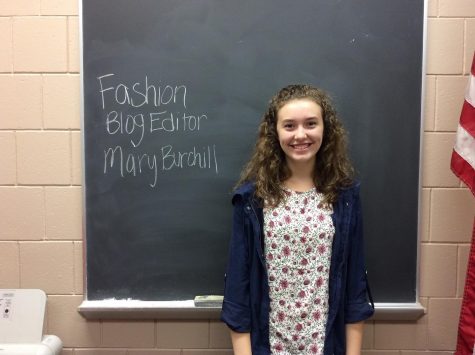 Mary Burchill, Fashion Blog Editor
Mary Burchill is a 16-year-old junior at Stillwater Area High School. She is a Fashion Blogger for the Pony Express. She likes to preform in shows around...