No hands and circus acts, Neala's unicycling hobby
From flapper girl costumes to hiking boots and circus acts to off road muddy trails, junior Neala Chevalier does it all with one wheel and no hands.
Chevalier is a part of the Twin Cities Unicycle Club (TCUC). At only the age of eight, she learned the skill of unicycling.
Family
Neala is not the only person in her family that takes an interest in unicycling, her mom Kim and her sister Dani take part in it as well.
"Neala's dad Jeff learned to ride with a helping hand, but has been more of a behind-the-scenes supporter, with his preferred activities being hockey and golf," Neala's mom Kim Chevalier said.
With three out of four members in the family involved, staying busy is one way to put it, through participating in parades, practices, off-roading, distance riding and unicycle hockey.
"In just a matter of years the number of unicycles we owned went from 2-10," Kim said.
How Neala got started
"
This summer I am going to Spain for the internationals, I went to Italy six years ago and Montreal two years ago, unicycling is so fun and kind of an excuse to travel around the world."
— Neala Chevalier
"My mom's friends' kids were in the Circus Juventas and my mom was like 'oh that would be really fun to do' so she asked me and my sister about joining, and so we joined the circus," Neala said.
Circus Juventas is a non-profit organization and performing arts circus school for youth that offers different classes specializing in circus acts and tricks that anyone can sign up and learn the designated skill.
"Neala and her older sister Dani were involved in classes at Circus Juventas where Neala did acrobatics and globes," Kim said.
At the circus there are many different activities and events to participate in, from trapeze to high wire to clowning there is something for everyone.
"Our family got into unicycling when Dani's coach at Circus Juventas recommended that she check out Twin Cities Unicycle Club," Kim said.
Twin Cities Unicycle Club
Twin Cities Unicycle Club is the largest and oldest unicycle club in Minnesota with over 200 members. It offers practices year round that accommodate to any level/skill of the rider.
"We do parades and like little routines in the parades through TCUC and with my freestyle team we go around the twin cities and do shows, birthdays and other events," Neala said.
Neala is not only ap art of the TCUC, but also the freestyle team within TCUC. The freestyle team is an advanced group of about 20 unicyclists who perform in high-quality, exciting shows.
"Neala and I are both a part of the freestyle team at TCUC that meets every Monday night and so we practice with each other at least once a week," friend Greta Koehler said.
How she manages her time
"When she is not involved in her sporting activities, soccer, downhill ski, and unicycling, she spends her time with friends and family, plays guitar, likes to chill out in front of the TV and is an excellent artist," Kim said.
Neala takes on the load of ap classes, extracurriculars, a job and of course, unicycling.
"It is pretty hard to balance it all during the winter because I work at Afton Alps and am in AP classes as well as going to one or two practices a week for unicycling," said Neala.
Her load eases in the summer when there is more time and she can focus on unicycling.
Accomplishments & achievements
"In the national competitions and the internationals they have freestyles where you pick a person you want to do a routine with and you find music and pick out a costume you want to wear and you make a little routine to music with tricks," Neala said.
The freestyle routines Neala and Greta perform are comparable to an ice skating routine, but of course on a unicycle.
"Usually around Feb. Neala and I start to brainstorm ideas for our pairs freestyle routine for NAUCC and UniCon," Greta said.
Not only has Neala traveled and performed all over the world, she also has performed a couple of times in her hometown, Stillwater, at SAHS during the Special Olympics in the summer.
"She has competed in six national competitions and two international competitions," Kim said.
Future
This summer Neala has plans to travel to Spain for the internationals.
"This summer I am going to Spain for the internationals, I went to Italy six years ago and Montreal two years ago, unicycling is so fun and kind of an excuse to travel around the world," Neala said.
About the Writer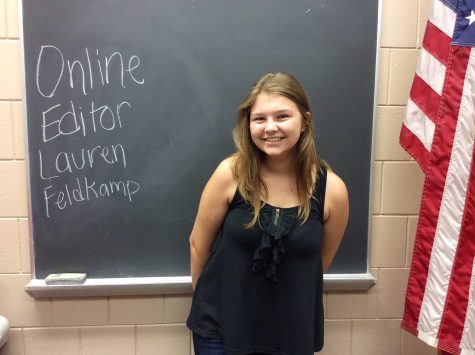 Lauren Feldkamp, Online Editor
Lauren Feldkamp is a junior at Stillwater Area High School. She is an Online Editor for the Pony Express newspaper. She also participates in art club at...