Lady Gaga's pops with new album

Lady Gaga over the years has made a name for herself as a pop icon. Her ability to remain a relevant artist since her debut album in 2008, The Fame, is testimony to her ability to sing catchy pop songs and her uninhibited taste in clothing.
Although it has been 2 years since her most recent release ARTPOP, Gaga is now returning to produce an album that is expected to be released in 2016. In the past year, she has been dabbling in acting in American Horror Story: Hotel and collaborating with Tony Bennett on a jazz album titled Cheek to Cheek.
The untitled album has been alluded in Gaga's social media as LG5 but has no announced name, or release date for that matter.
"You know, I am putting out an album this year. I won't tell you when," Gaga said during the Golden Globes this spring.
Gaga's time spent with acting in hit TV series American Horror Story has paid in the form of her own golden globe for her role as The Countess, which was the only one won for the show.
Gaga has gone as far to say that her time spent acting has actually changed her voice. Her new experience will hopefully bring more emotion into her music, which is an exciting prospect for her fans.
Also generating some anticipation for the upcoming record are the people Gaga is working with. She will be working with well known people such as Giorgio Moroder, songwriter Diana Warren and songwriter/producer RedOne. Her reunion with RedOne is especially exciting because of the hits the two of them have made in the past such as, Bad Romance, Just Dance and Poker Face.
Junior Bridget Smith said, "[I am excited to] hear the music that she wants to do instead of what her producers want her to do."
It has yet to be seen if her new album will live up to some of her earlier works' popularity. ARTPOP from 2014 sold 258 thousand units in its opening week in the US but it didn't even come close to the 1.1 million first-week sales for 2011's Born This Way.
Smith said, "I didn't like ARTPOP as much, it wasn't as much  of a jam to me."
Although Gaga is known for pop, rumors have been floating around on social media that she will be turning to disco because of the people she's worked with.
Smith said, "I'd totally be into some Gaga disco because she can do anything she wants and it'll have her own unique twist to it.
About the Writer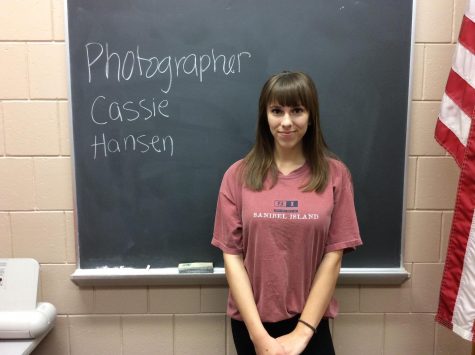 Cassie Hansen, Photographer
Cassie is a junior at Stillwater High School. She is the Sports Photographer for the Pony Express. She loves painting and other arts. She is in Amnesty...