Writer's Club encourages student expression through written word
Hang on for a minute...we're trying to find some more stories you might like.
Expression is one of the most basic needs for a healthy life in our society. Some choose to express through visual art, like painting and drawing or through technological arts. Still others express themselves through their movements and modes of dress. But one of the oldest and most sacredly human forms of expression is the written word, a direct display of a person through language.
The Shire Literacy Center is developing this skill and hobby in youth through their newest club, the Writer's Club. The Writer's Club meets bimonthly and is tailored towards young adults wishing to improve at writing and enjoy writing all different types of literature, as well as expose themselves to other writers in the community. The students improve their writing through direction from adults, as well as peer reviewing among club members.
"
I'm a part of the club because I'm heavily interested in creative writing. I've been writing for fun since about 4th grade."
— Chris Burbach
The Shire is a relatively new group affiliated with the Stillwater Public Library and Art Reach St. Croix attempting to get youth involved in creative writing, as well as improving in their skills.
"The Shire Literary Center offers courses for writers," English teacher Mrs. Roeschlein said. "It models itself after The Loft in Minneapolis, where they encourage writers to come together and learn from each other."
The club centers on allowing time and space for members to work on their personal pieces and socialize, but also gives time to allow individual members to show off their work or lead the group.
"There will be some focused activities that the students will sign up to lead. They can lead at any genre or topic of their choice. They get to decide how we're going to spend 45 minutes of our structured time," Roeschlein said. "At club meetings, we have roughly 30 minutes of talking, followed by a writing exercise and then by critique," junior Chris Burbach said.
While improvement and interaction with literature is certainly the main goal of the club, it also attempts to make the students better listeners, which allows them to be better involved and skilled at critiquing and being a part of others' works.
"We will strongly encourage feedback, as well as critiquing, but in an effective way as opposed to a way that may diminish someone or make them overconfident," Roeschlein said. "There will be a sort of code of conduct; how do we behave when we're here and how do we treat each other well so we can have a really positive experience."
The personalities of club members and leaders is, as expected, very literature centered. Most club members already join with a history of writing, but Roeschlein and the club wishes to expand by including those who have little to no writing experience as well.
"I'm a part of the club because I'm heavily interested in creative writing. I've been writing for fun since about 4th grade," Burbach said. "I love writing," Roeschlein said. "I write for the Gazette, and I'm actually trying to get my first novel published. I've written poetry most of my life, although I've been very shy about my writing until just 2 years ago, but I'm having a blast with it."
Even through improving at writing is the goal, writing skills go far beyond being just a skill or hobby. Improving these skills is just a means to create a community more involved with literature, one that can better receive the mental benefits of literary expression.
"Writing can be rather therapeutic for people, like through journals. I think that's a great thing, but I'm hoping to encourage kids to get past the journaling and more into imagination," Roeschlein said. "The club itself isn't terribly important, but the opportunity it provides is," Burbach said.
Writing is one of the most important abilities of human beings. It has continued to evolve and alter peoples' lives since its invention over 5,000 years ago to our modern age, and will continue into the future.
"I think it's really beautiful to have a young person have a voice", Roeschlein said. "It really provides a power for them. I think the written word is very powerful and I think that it's something that we don't ever want to die out as humans."

About the Writer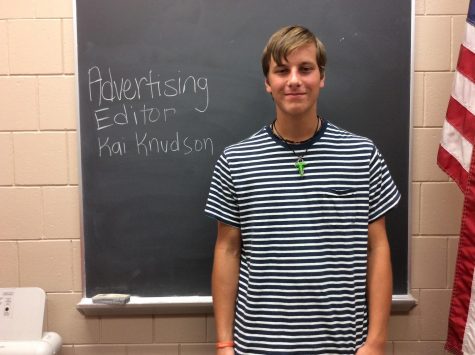 Kai Knudson, Advertising Editor
Kai Knudson is an Advertising Editor for the Pony Express. He is also involved in the band program, performing in the top jazz and concert bands as well...