Lauren Greeder commits to UMD for softball
Senior Lauren Greeder has accomplished her goal of playing a college sport at The University of Minnesota-Duluth. She will be playing softball. Greeder also is a captain of the hockey team this year along with senior Olivia Arkell. She is also involved in her community.

It was Greeder's life goal to play a sport at UMD. She first thought she would be playing hockey instead of playing softball.

"I love both sports equally, I just think I was better at softball and saw myself more playing softball," Greeder explained why she chose to play college softball instead of hockey.

Softball is my feature

Greeder has been playing softball for years. She either plays second base or outfield. She plays both high school softball and club softball. In the past three years, she has been on three different club teams. This year, she will be playing on the Midwest Speed Team. Before every game, the team goes behind the dugout and says a quick prayer.

Greeder explained what makes a great softball player, "Hard work, effort and being with the team work for the team."

Club sports usually means traveling. While playing club softball, Greeder has traveled to Colorado, Iowa, South Carolina and Illinois three times.

"Colorado was my favorite, we did not play the best, but it was the best moment to be on those fields," Greeder explained.

While playing any sport, players will remember a moment when they did something outstanding or unbelievable.

One moment Greeder will never forget is when she hit a "dinger" [homerun]. "I am not a person who will hit home runs or anything. I am a bunt hitter, I barely get it past the pitcher so it was fun to see that I hit a home run in a section game against East Ridge," Greeder said.

Hockey

Softball is just one sport Greeder plays. Greeder also plays hockey. She has been playing hockey for 13 years.

"

She makes it fun to be a part of the team and makes sure everyone feels accepted and that they know they are all very important to the team. Her attitude and effort absolutely amazes me and I wish I could be like her. She is also very inspiring."

— Cleo Nystrom

"Honestly, I just try to be a leader, try to make it fun, I do not like to tell people what to do so I just encourage them [teammates] in a different way," Greeder said why she thinks she got chosen to be a hockey captain this year.

While on the ice playing hockey, Greeder is a natural leader. She is always there shouting encouragement to her teammates. She waits for everyone to get off the ice at the end of every period then herself.

"She makes it fun to be a part of the team and makes sure everyone feels accepted and that they know they are all very important to the team. Her attitude and effort absolutely amazes me and I wish I could be like her. She is also very inspiring," junior teammate Cleo Nystrom said.

During the game on Dec. 10 against Forest Lake, Greeder cut her knee open in the beginning of the second period. She did not even realize she did until after the second period was over. Once she got into the locker room and looked at it, the trainer said she could not go back on the ice because she needed stitches.

"When she said she wanted to still play, it showed her amazing dedication to the sport and our teammates. Not only that, but it showed her heart. Not everyone would want to get back in the game after an injury like that," Nystrom said.

Since playing hockey for 13 years, Greeder has accumulated many memories.

"My favorite hockey memory is my first varsity goal. I was a freshman and was playing on the fourth line so I did not get much playing time. Coach Schied put me into a game in the second period against East Ridge and on my first shift I went down and scored the tying goal making it 1-1. End of the game we won 2-1. It is my favorite memory because I remember the team, coaches, and my parents were all so proud of me," Greeder said.

Athlete of the week

Greeder was the first athlete from Stillwater to be named ASPIRE Athlete of the Week. Greeder had 2,778 votes which made her win week ten. The program was created by ASPIRE Beverage Company that recognizes athletes between grade nine to twelve.

"I was really excited, I did not take it as a big deal until the last day when it was really close. With the other nominee Parker Fox from Mahtomedi. I was not really into it until it got super close then I just got my competitive side out and I just wanted to win. When I did it was really fun," Greeder said.

Involvement in the community

Besides playing two sports and getting good grades, Greeder is also involved in her community. She is a volunteer for the Red Cross. Greeder also went on a mission trip through Trinity Lutheran Church.

"I was a volunteer for the Red Cross. I volunteered for three years with my grandma. What we did was missions and getting other people known to different things. We did a babysitting lesson at St. Michael's church. We also did blood drives," Greeder said.

"She is probably the most genuine, funny, outgoing lovable person you could ever meet," junior Emily White said about Greeder.
About the Writer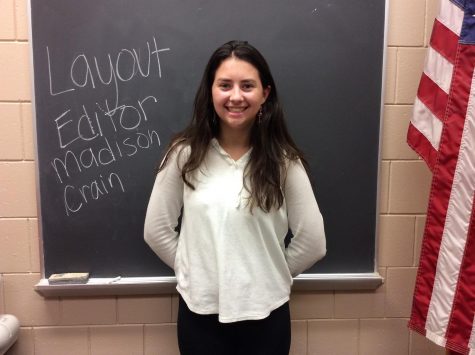 Madison Crain, Layout Editor
Madison Crain is a junior at Stillwater Area High School. Madison is the layout editor for the Pony Express Newspaper. Madison is also involved in Key...