2015 gift-buying guide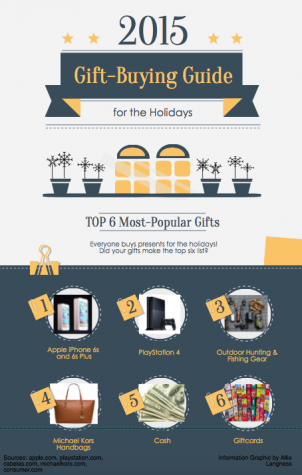 `With the holidays vastly approaching, stores are beginning to stock their shelves with this season's most popular gifts amongst consumers. Everything from electronics to toys are popular gifts during the holidays.
Most stores participate in sales throughout the months of November and December. Generally, that is when consumers get the best deals on gifts for the holidays, but this is not always true.
A lot of stores have great deals on electronics during the holidays. This year, some of the most popular gifts fall under that category.
"The PlayStation 4 is one of the most popular electronics this year. It came out about a year ago but the price is finally reasonable. The iPhone 6s and 6s Plus are also popular this year because they just came out. Of course everyone wants them because they are brand new," senior Jake Simcik said.
Stores get away with charging higher prices because they know people will pay the high prices. When it was first released in the late fall of 2015, they charged $400. This year, people could get a bundle with a game for under $300. The price is making the PlayStation 4 a hot seller this year.
"If people are willing to pay a lot of money for things then the stores are going to charge more for the popular items. They will continue to keep the prices high if people continue to buy the items. If people stop buying the items for high prices, they will be forced to lower the prices because they need to make money too," senior Ali Reardon said.
"
Cash is always on my list because I can use it to buy things that I might not ever buy otherwise. College is coming up very soon and I am going to have a lot of expenses."
— Cassie Willeart
Some popular items for guys fall under the category of hunting and fishing gear. The equipment needed to hunt and fish can be expensive but the holidays are a great time to get deals. With the average price of a fishing rod and reel combo being over $60 this year, they make great holiday gifts.
"I want some hunting and fishing gear. A new ice fishing rod would be nice and maybe some lures. I like to fish and hunt and some of the gear is expensive so it is always nice when I get stuff that I can actually use," senior Jake Simcik said.
Most girls ask for designer clothing and handbags. Macy's and Herberger's have great deals on their designer brands during the holiday months. Most stores offer an extra 25 percent off clearance priced designer handbags.
"I really want a new Michael Kors bag. There is a super cute one at Macy's and it is on sale for the next couple of weeks. I really want a new handbag. Christmas is the perfect time because most things go on sale at least a little bit," Reardon said.
Another popular item between guys and girls is cash. Some people argue that giving cash as a gift is an easy way out but most people who receive cash appreciate it so they are able to choose their own gifts.
"Cash is always on my list because I can use it to buy things that I might not ever buy otherwise. College is coming up very soon and I am going to have a lot of expenses," senior Cassie Willaert said.
Some people miss the great sales because they do not want to stand in long, cold lines on days like Black Friday. Usually, this doesn't stop them from still buying the things on their loved ones' lists.
"The holidays is the one time of year that people splurge on gifts for their family members and friends. They don't usually care if the things they are buying are worth the money or not because they are going to buy it sooner or later and as long as it is in their price range, they are usually willing to spend the money," Simcik said.
About the Writer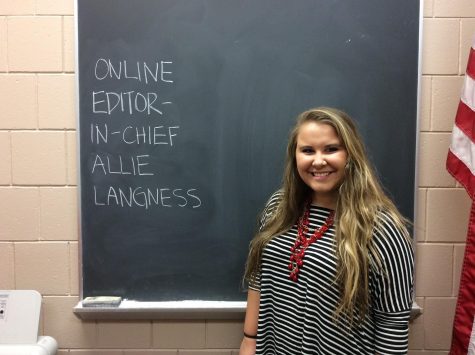 Allie Langness, Online Editor-in-Chief
Allie is a senior at Stillwater. She loves to hangout with her friends. If she isn't with her friends or family, you can usually find her shopping. She...