Class of 2016 plans senior party
The celebration of the senior class continues at the senior class party following the graduation ceremony. Seniors are looking forward to spending an all-nighter with their classmates, participating in different, activities and eating lots of food and snacks and getting no sleep with the possibility of winning something too.
The senior class party has been a long-standing tradition at SAHS for 35 years, organized by the Senior Class Party Committee and run by parent volunteers. In 2014, 90 percent of seniors attended this event. At this highly-attended event, senior students come together one last time to reflect on their high school years and enjoy one last night together as a graduating class, before they go on to bigger and better things.
Senior council member Elise Hendrickson said, "I am excited about just getting done with senior year and being able to have one last night with everyone who made my high school years a success. It'll be so much fun being able to just debrief and relax after everything. A lot of kids show up too, which makes it for a fun and rewarding night."
Stillwater's senior class parties rely heavily on donations  from local businesses in the community. Over 150 community businesses have been contacted such as Target, Cub, Walmart and local banks. Many of these businesses are more than enough generous donators towards Stillwater's senior class party and contribute greatly to help make this event a success.  Stillwater Motors has donated a car for the past 30 years; Hubbard Broadcasting has also donated travel vouchers and a trip to Disney World in the past.
Senior class party committee member Jennifer Wille said, "We request a lot of donations from the community and are very lucky that people are generous and donate a lot to help us keep this party going."
Some of the prizes include: a car, travel vouchers, cash drawings, gift cards, laptops, microwaves, Xbox, PS4s, I-pads, dorm refrigerators and microwaves which can be won in the raffle drawing or "duck pond." As well as prizes, many local food businesses will be donating and catering food for the senior class party.
"We have a lot of great prizes because we are lucky to have a generous business community to help support our senior class party. Not many senior class parties give away the amount of prizes that Stillwater high school does," Wille said.
Last year's senior from the class of 2015, Courtney Hegarty, won $500 at this event. "I was not expecting that at all. I remember it was about 5 in the morning and I was sitting front row half asleep. I have never won anything before so when I heard my name it  was a big shock. I am still in shock to this day that I won and I was so excited, that I texted my mom right after," Hegarty said.
"
"I am excited about just getting done with senior year and being able to have one last night with everyone who made my high school years a success."
— Elise Hendrickson
At last year's senior class party, Olivia Braun won the car. "I was so surprised when I found out I won the car. It was one of those things you'd never think you'd win and when I heard the name called I didn't actually make the connection that it was me. Pretty exciting though," said Braun.
As of this year, a volleyball tournament will take place at the senior class party for cash prizes. Mounds Views High School has found this activity to be popular and enjoyable at their school's senior class party, for teams get creative with their team's name and uniforms and show a lot of interest in the event. There will be eight teams of six players and 30 minute games all throughout the night with cash prizes for the champions and runners up. Seniors are able to sign up for teams in the office with Mrs. Anselmo.
"This is something we haven't done before and thought that we would try it this year as a new activity. We are hoping that it will take off," Wille said.
One of the most popular events at the senior class parties in previous years was the hypnotist, Sammy Dare. This event occurs at about 3:30 in the morning where seniors gather and get to watch their classmates experience the hilarious effects of hypnosis.
"It's hilarious and fun to watch. The kids love it, it's a blast," Wille said. "They save this for the end so people will stay and not leave early but it is worth it. You get to see your peers doing funny things on stage," Hegarty said.
It's not only fun and games at the senior party. Each year, seniors complete a service project to help give back to their community. At last year's senior party, there was a service project involving the making of over 500 birthday bags for the local food shelf. A service project was done for the children's hospital in honor of Zach Sobiech a few years ago.
"It's nice to work with the senior council to hopefully get them involved in the early stages of planning and coming up with ideas for a particular cause that they are interested in for this  year's service project at the senior party," said Wille.
Stillwater's senior class parties have been a well-attended, successful event for seniors. Seniors seem to enjoy themselves and make the most of the last time being with their whole class through all the different activities, games and food that their senior class party has to offer.
"My favorite part of the night was to be able to hang out with my friends and classmates who I don't normally hang out with! This is a great event to go to and it is definitely worth going. You do pay fee to go but you get so much out of it. You spend time with your friends and your class making life long memories. They hand out so much food and prizes, everyone will go home with something," Hegarty added.
About the Contributor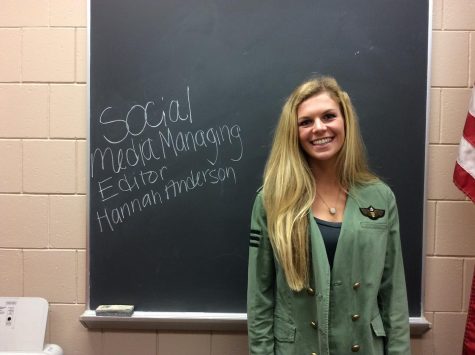 Hannah Anderson, Social Media Managing Editor
Hannah Anderson is a junior and a Social Media Managing Editor for the Pony Express. Hannah is a member of the girls varsity soccer team, hockey team,...