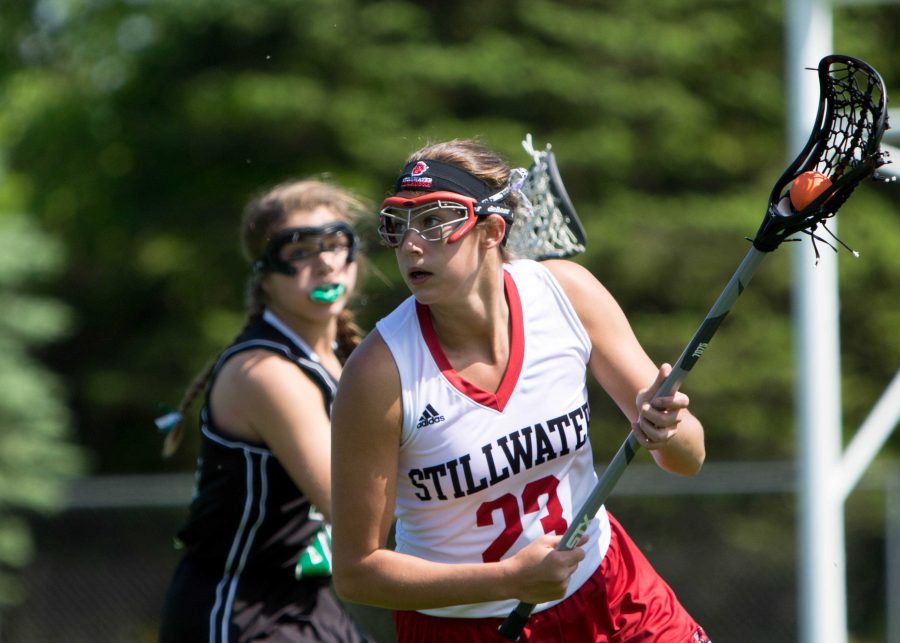 Photo courtesy Mark Stickler
Senior Sara Stickler keenly remembers a pivotal high school lacrosse game during her junior year. It was the second half of the opening round state tournament game last spring against Prior Lake. The strong defender was running down the field when she planted her foot and heard a loud popping noise. She started to fall, but her leg stayed rooted to the ground. The result: a torn ACL.
Stickler, a successful multi-sport athlete, never suffered a serious sports injury before. Playing lacrosse since the seventh grade, and hockey since kindergarten, she had a specific goal to fully recover by a set date.
"My long term goal was to recover by hockey season. I also had lots of short term goals. I kept a little book of things where I wrote what was super important to me throughout my recovery. I also had a journal where once in a while I would jot things down and look back on it when I needed motivation," said Stickler.
ACL tears were once an injury most athletes considered a devastating career-ender. However, Stickler underwent physical therapy three days after her injury and had surgery on July 8. She continued physical therapy after that and it became almost like its own sports season. Her progress was astounding, and she is now prepared to take on her final hockey season.
"Sara has overcome significant adversity in her quest to fully recover from this catastrophic injury. Knowing Sara, I'm not surprised by her accelerated recovery. Prior to her injury it was apparent to me that Sara had all of the characteristics that have served her well during her post injury recovery," lacrosse coach Rick Reidt said.
On Nov. 10, Stickler went through one of her last sports clearance tests at physical therapy. Her physical therapist talked to her surgeon and then got to share the good news that she was fully cleared, meaning she was free to do everything she had previously done before the injury. That same day was her first time back on the ice.
"Finally stepping out on the ice felt so natural yet so different at the same time. It was such an awesome experience because the team was so excited for me and supported me throughout the process beginning to end. When I found out I was finally cleared I was in shock and instantly cried of happiness. I couldn't believe the day I've been waiting for since June had finally came," Stickler said.
Throughout the set-back Stickler faced, she remained positive and was determined to recover and return to playing the sports she loved. She referred to her recovery as a "mental thing." Telling herself she could do it and mentally pushing herself through the hockey camps, practices and everything else made all the difference in the end.
"I told myself, 'the only way you're going to get better is if you get that tunnel focus and don't look back. If you're negative it will only take longer.' I just kept thinking that I needed to be ready for tryouts, and the only way to do that is to stay positive and do my best," Stickler said.
Stickler had a huge support system behind her, cheering her on and checking up on her to make sure everything was going well. Family, teammates, coaches and friends all contacted her. They all knew her determination and strength would serve her well in her recovery.
"Sara is a very hard worker and always puts herself before the team. She gives her all even in the toughest situations. I knew she would get through this injury, we were all there to support her and help with whatever she needed. I have no doubt by lacrosse season she will be back and ready, stronger than ever," said senior Sam Houle.
Stickler is known as a hard worker by her teammates, coaches and friends. Recruiters noticed her work ethic as well. Coaches from Concordia University in St. Paul contacted Stickler in hopes of getting her to play for them next year. Unable to deny the offer they made, Stickler made the decision to commit to continue to play DII lacrosse at Concordia next lacrosse season.
"I absolutely loved the atmosphere at Concordia. It is a beautiful campus and the lacrosse coach is great. She has great values and a great coaching style I know will help us all succeed," Stickler said.
Despite her set-back from a torn ACL, Stickler remained persistent and determined to continue to do great things in the world of lacrosse. She overcame the disappointment and struggles of a major injury and will continue to play the sport she loves in upcoming years.
"All of Sara's positive character attributes that make her a high-level high school student/athlete will transfer to the college level. I'm confident Sara will stand out at the DII level and her coaches at Concordia will be very happy to have her as a team member," Reidt said.