Seniors bring back Powderpuff football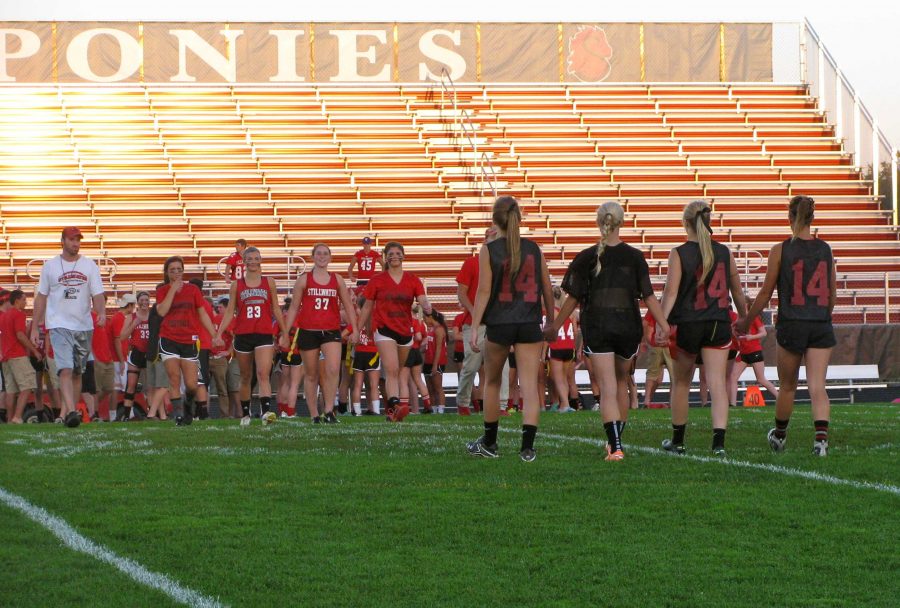 Eric Bromback
October 31, 2013
While the senior girls huddled up with their coach to call the next play, the junior girls waited on the line of scrimmage, ready to take the win. On Sept. 30, Stillwater Area High School held their first Powderpuff flag football game in many years.
Each homecoming week has been the same for the past years with classic dress up spirit days, but this year the Powderpuff game was new. The senior girls faced off against the junior girls while the stands were full of students cheering for their graduating year. After a long and eventful game, the junior girls came out on top, scoring with less than a minute left.
Both teams held a few practices before the actual game to learn plays and figure out how to work as a team. They were run by some of the varsity football players.
"The atmosphere of both the practices and game was focused, and with competition in mind, it made the whole experience very fun to be a part of," said senior Mark Houle. "It was great being part of the experience knowing that it would become a homecoming tradition."
After many years without a Powderpuff game at Stillwater, it was new for all the students and provided a change in the abnormal homecoming week.
"It was like being a part of a team and it was such fun experience that brought us senior girls closer together," said senior Kallie Uner.
Even though the senior girls had an upsetting loss at the end of the game, after two practices of working together and trying to defeat their rival graduating class, they had put in a good effort.
"The team definitely tried their hardest and they were prepared enough to win that game," said Houle. "Maybe a play here or there would have made a difference, but that's sports."
When the school had first heard the news of the Powderpuff game soon to happen during homecoming week, some had asked if it was sexist or discriminatory towards women, but after the practices and big game, it was agreed that the new addition to homecoming week was a great choice.
"The boys were really supporting of us and really wanted us to do well," said Uner. "All of it was just really fun."
The Powderpuff game was a huge turnout which gave a positive atmosphere for the students while providing a competitive sense between the two graduating years. With a new tradition for the upcoming homecoming years, the students are excited to see the turnout for next year.