Tollefson leaves behind a legacy to remember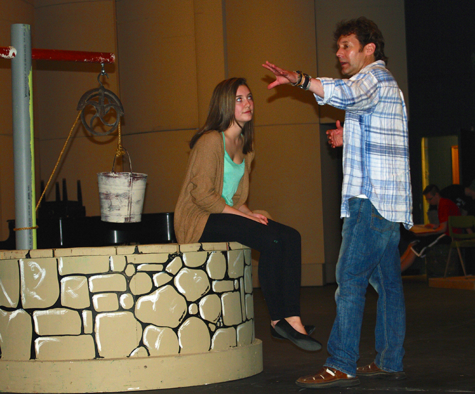 Since the beginning of the school year, there have been rumors of many teachers retiring or leaving. One of those people at the center of them was theater director Haeri Tollefson. He confirmed himself that 'Cinderella,' the school's spring play, will be his last.
Tollefson has been the theater director for 10 years. He was hired in August 2005 after working at South St. Paul High School. The transition was a big change for him because he had established a program there and was highly regarded. The grade levels were seventh through twelfth grade there and he also did community theater, so he got to meet students at a younger age.
When Tollefson started in Stillwater schools, he had a difficult program to start with.
"When I first started here, the theater program wasn't as strong because they didn't really have a voice that was consistently here," said Tollefson. "They had hired out separate shows and they didn't do as many of them."
They also had someone who was not on the staff full time working the shows.
"Therefore the students were kind of left in between to fend for themselves," said Tollefson. "The students, I have to admit, were a little bit resentful of me coming in."
Rather than coming in and changing everything for his first show, Tollefson tried to slowly change things over time as they were needed.
"Some of the things that slowly changed were bringing safety up and bringing up the standard, because I think they had a fairly low standard of quality," said Tollefson.
Not only did Tollefson have to bring up the standard for students, he had to choose shows that people would come to see.
"For each show, it's chosen mainly based off of the brand name," said Tollefson. "You ask yourself, what do the students want to be in and what does the audience want to see, because it's not fun to play to no one if you're an actor. Every year, I just ask the students what they want to be in."
After the students agree on something, Tollefson then looks to see if it is doable.
"Then you have to look at if there are enough people for the chorus and are there enough principle roles to play," said Tollefson. "I like to have a lot of people in a show and be as inclusive as I can."
'Grease' was a good example of one of Tollefson's shows. It was suggested by many of his students.
"We just wanted to do 'Grease' really bad," said Tollefson. "And it's a good show. We did it five years ago and it always sells out."
Tollefson has made a very good impression on many theater students over the past few years.
Sophomore Carissa Hagen first met Tollefson in September.
"My first show with him was 'A Midsummer Night's Dream', and I've done three other shows with him," said Hagen.
Junior Emma Harvieux has worked with Tollefson for two years.
"I started doing shows with him my sophomore year and I've done five shows with him so far," said Harvieux.
Senior Jayna Davis has known Tollefson since first grade. 
"
I will miss his sense of humor, his laid back style and how he loves to include everyone. I just hope that the spirit of the theater and the happy environment he gave to us will continue on."
— Jayna Davis
"I first met him when we started doing 'The Best of Broadway' shows," said Davis. "I've done five musicals with him, but in total I have done 10 shows with him."
Most students like Tollefson's style of directing.
"I liked that he would come talk to us," said Hagen. "He seemed to try to have a good relationship with the people he was directing."
"I like his overall style, but I mostly like how he always goes for the bigger picture," said Harvieux. "He includes everyone in it, and everyone is important."
"He gives good compliments and gives good instructions," said Davis. "I've definitely learned a lot from him over the past few years."
Since Stillwater theater only has tenth through twelfth grade, Tollefson has gotten to know students on a personal level more.
"During the show 'Masterpiece,' I got to know Haeri on more of a personal level," said Harvieux. "So now he comes up to me and just asks, 'Hey, how was your weekend,' and stuff like that."
"Before I took formal vocal lessons, Haeri would help me with my singing," said Davis. "He offered to help me out a little bit and that was really kind of him."
Tollefson is leaving this year but has big plans ahead of him.
"I actually intend to become a student again in the sense of I will learn many new instruments," said Tollefson. "I was a singer in a rock band which helped get me through college, but I never got to learn instruments the way I wanted to. I learned how to play some guitar and some piano, but I want to finish that out."
The fact that Tollefson is leaving has already had an impact on many people.
"I'm sad that he's leaving because I thought he was pretty cool," said Hagen. "I got to know him well over this past year and I will miss having him as a director."
"I'm really sad about it, but I'm also excited to have a change," said Harvieux.
"I'm glad I got to spend my senior year with him," said Davis. "I am sad that he's taking off because I have younger sisters and lots of younger friends who I know will miss out on working with him in the next few years."
Tollefson does have many things that he will miss about being the theater director.
"I'm really going to miss individual students," said Tollefson. "I've really enjoyed them overall, especially the past five years. It's definitely the people."
Tollefson's legacy of being the theater director will definitely set new standards for his replacement, and he will be remembered by many of his students for a long time.
"I will miss his sense of humor, his laid back style and how he loves to include everyone," said Davis. "I just hope that the spirit of the theater and the happy environment he gave to us will continue on."
About the Writer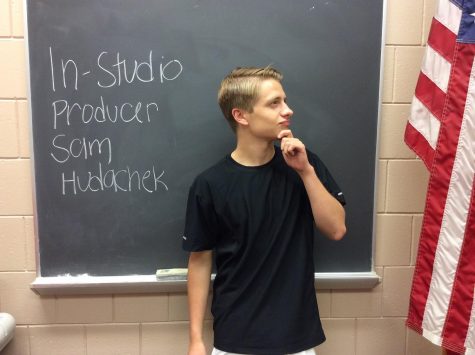 Sam Hudachek, In-Studio Producer
Sam is a busy person. He referees soccer anytime of the year, except in the winter, which he swims for the high school. He is also an Eagle Scout, which...