Grungy and versatile, boyfriend jeans bring back simplicity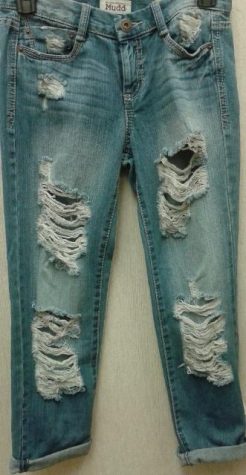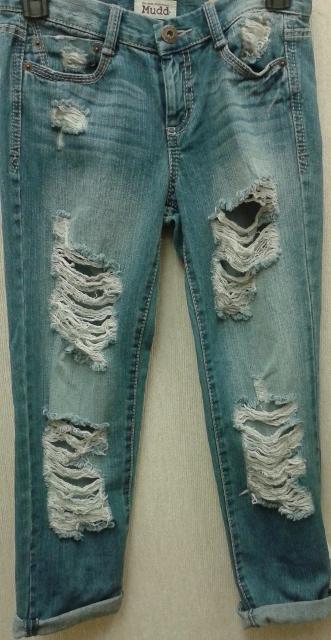 For many years, mom jeans, otherwise known as boyfriend jeans, were seen as something only mothers should be wearing. However, in today's fashion world, boyfriend jeans are the next greatest thing.
Mom or boyfriend jeans are jeans that have a looser fit with a chic look. They come in all sorts of varieties and styles, dark wash, light wash and distressed. Distressed boyfriend jeans seem to be the most popular style among teenage girls as they can add a cute flare or a little edge to an outfit. These jeans are also very easy to dress up or dress down for a flawless look each time.
Sophomore Bridget Smith said, "The jeans have a fun grungy look."
Not only are boyfriend jeans stylish, they are also pleasing to many shapes, sizes and figures women can have.
"The high waist part works well for my body type and I like the look of them," Smith said, "also they are like jeans but not tight and are fitted to my figure."
Boyfriend jeans have a much more relaxing vibe to them which is appealing to many girls.
Sophomore Ava Coleman said, "The jeans improve outfits by making them more casual."
Boyfriend jeans are versatile, they can be worn any day of the year.
"They can change up your style and there is many different ways you can wear them," Coleman said, "You can wear it with a crop top for a summer look or a preppy knit sweater if you would like to tone it down a bit."
Boyfriend jeans can be styled up or down simply by what pair of shoes that are worn with them.
"They go great with ankle booties or converse high tops and are easy to match stuff with," junior Kallie Quist said.
These jeans have the ability to improve an outfit all on its own.
Quist said, "The jeans are a statement piece in themselves, you can wear just a simple grey tee and still look cute."
The most appealing part about boyfriend jeans is the sense of looseness one gets while wearing them.
"The looseness is really nice," Coleman said, "You are able to move a little more in them than with skinny jeans."
Wearing "boy" clothes has started to become more mainstream, causing women to wear less fitting clothes and to feel more confident with being comfortable.
About the Writer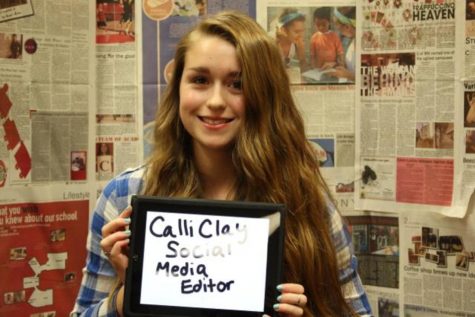 Calli Clay, Social Media Editor
Calli Clay is a junior, she is in Belle Chanter and she is currently in her fourth year of French. In her free time she enjoys babysitting, baking, listening...