Quest for the dress: two-piece prom dresses make the ranks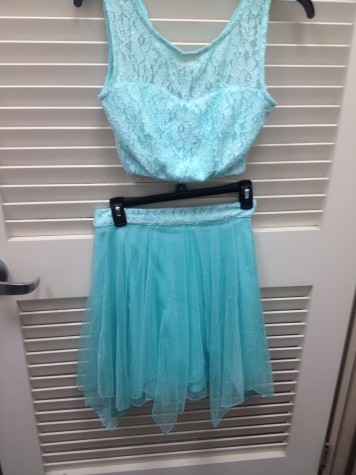 Prom is an integral part of the American high school experience.  Girls spend hundreds of dollars on dresses, accessories and getting their hair and nails done.  Prom is on May 2 and some girls still are not quite sure what to wear.  One suggestion is a two-piece prom dress.
"One-piece dresses are really common.  Two-piece dresses add contrast and they're usually more of a risk," said junior Matt Christian.
Two-piece dresses have only just begun to be popular, meaning not many girls will be wearing one to prom.  This is good for people considering getting one, because there is a common phenomenon of girls not wanting to wear the same dress.  They even create a Facebook page in which they post a picture of their dress so no one will.
Student teacher for history teacher Michael Kaul, Heather Auni said, "I think if they're done tastefully they can be nice.  If it looks more like a bikini top and a skirt, then it's not a dress."
There are hundreds of  different styles of two-piece prom dresses.  Some do look like the type that Auni described, but there are also a wide variety of formal-looking ones.  Promgirl.com carries many of aesthetically pleasing dresses for as cheap as $39.99.  It is also incredibly easy to find dresses from other websites simply by typing "two-piece prom dresses" into Google's search bar.

Loading ...
"I maybe have seen only one once, but I don't really go dress shopping so I don't know," laughed junior Celeste Tomlinson.
Now even though Tomlinson claims to rarely go dress shopping, the other two interviewees both stated that they barely saw any two-piece dresses in stores.  Many of the other fashion trends today are mainly purchased through online stores.
About the Writer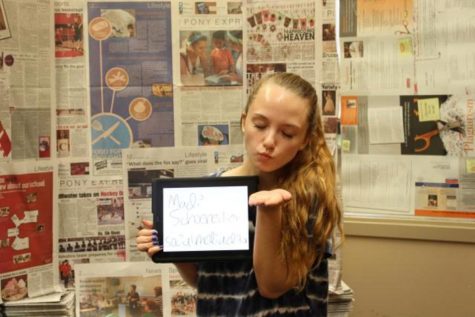 Madi Schoenecker, Social Media Editor
Madi is a junior and 17 years old. She has two younger siblings, two dogs, and a rabbit. She enjoys singing, reading,  obsessing over Harry Potter, and...